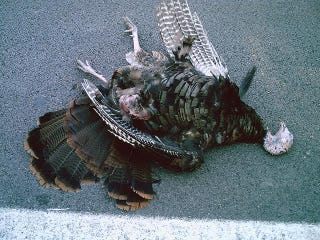 First, let's dispense with the obvious. There is every damn reason in the universe for a grown adult man to be thinking about Thanksgiving. Thanksgiving rules. So stop being the contrarian asshole who bitches about how Thanksgiving represents the subjugation of the American Indian by foreign invaders and get over yourself. Also, please try to not have intercourse with the can of cranberry sauce this year.
Problem 1
Turkey only remains at the perfect temperature for consumption for approximately 17 nanoseconds. Ever cook a turkey? It comes out of the oven piping hot (of course). You let it sit for a while before attempting to carve it. When you carve it it's still so hot that you burn the snot out of your fingers as you joyfully yank the drumstick from the body. It's still hot as you layer it on the serving platter. It's somewhat less hot as it gets passed around the table and you pile it with wonderful gravy and mashed potatoes. It's almost perfect as you bow your head for grace. And as you shove your loaded fork to your fat greedy mouth... it's stone fucking cold.
Will optimal turkey temperature be realized in out lifetime? Probably not.
Problem 2
Black Friday. We all know Black Friday sucks. The deals aren't that good. It's now a day earlier, forcing people to work on Thanksgiving. People die every year. Only morons who've been kicked in the head by a mule would be dumb enough to shop on Back Friday.