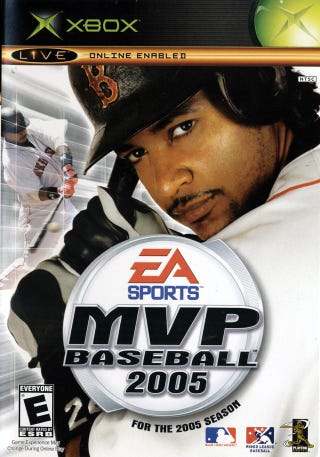 If someone tries to tell me RBI Baseball is a good substitute they can get fucked.

Everyone who knows a thing or two about sports video games is at least a little familiar with Microsoft's bare cupboard when it comes to baseball sims. Through a wave of exclusive licensing agreements that killed one of the best sports gaming franchises (I'm not gonna sit here and wax poetic about MVP Baseball) and a piss-poor offering by the company that secured MLB's exclusive rights (2k), baseball has been killed for Xbox owners.
I had come to terms with that. If I wanted a baseball sim bad enough, I'd buy a Playstation and get The Show. I didn't want to get a Playstation though. Way back when the Playstation and the Nintendo 64 were duking it out, I got an N64 and one of my buddies got a Playstation. He brought me over to play Twisted Metal and Crash Bandicoot and the play control turned me off. Not just to the games, but to the whole damn console. I was 11 and probably had a combination of impatience for learning something new and a desire to proclaim the system I had as the better one.
For some reason, that bad taste from those two games stuck with me and made me view Sony in a bad light whenever I would be in the market for a new console. This is stupid, but it's something people do. Especially in the Midwest. My family was a Chevy, John Deere, Burger King family and anyone rockin Ford, International and McDonald's was probably a pussy. Again, this is really stupid, but families staying loyal to brands is incredibly common, and despite numerous attempts to shake it, some of that mindset has stuck with me.
So I got an Xbox 360 back in college and an Xbox One a few months ago. I'm happy with my purchases (was more happy with the 360), but every year since 2K's licensing agreement with MLB has expired, I've crossed my fingers that EA Sports would come out of nowhere with a renewal of their MVP series. And at this point I'd just love a new baseball sim for my current console.
This year's E3 has come and gone without any of those announcements. Even though it's a bummer, I've justified it in my head by saying well developers are probably skittish about bringing a baseball offering to Xbox after 2K's terrible run.
Then today I was looking through the list of games available for Xbox One and what the fuck, you guys. If any of these games can make money, someone needs to bring a baseball game back into the fray. Here's a list along with my thoughts:

Two goddamn Rugby sims
What the fuck
Christ EA Sports, NBA Live is not returning to glory, MAKE A GODDAMN BASEBALL GAME INSTEAD!!!
Are you fuckin kiddin me?
ARE YOU FUCKIN KIDDIN ME???
DAD WANTS A GODDAMN BASEBALL GAME!!!!
Agatha Christie - The ABC Murders
Who is this even marketed towards????
this. is. BULLSHIT.
I've tried to keep kids games off the list, but what the fuck is this shit?
You're not foolin anybody
ANOTHER FUCKIN RUGBY SIM!?!?!?
(Elongated Sigh)
People only pretended to care about the Tour de France before they found out Lance Armstrong was kind of a dousche
This game actually seems kinda enticing, BUT I'D RATHER HAVE A BASEBALL GAME!!!
(More huffy elongated sigh)
FUCK YOU
THEY MADE ONE OF THESE IN 2015 TOO!?!?!?
FUCK YOU AND FUCK YOUR FAMILY YOU FUCK
And that's without including a shit-ton of Kung Fu Panda and Lego games. Guys, there's no reason there why we shouldn't have a true baseball sim for Xbox. Email your congressman or something.