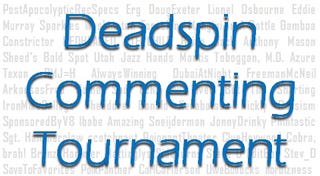 One of them always does the right thing. One of them always does the wrong thing. Let's hope both of them do the funny thing today.
NOTE: Today's voting ends at 2:00 PM Eastern sharp.
Please check the ground rules below for a couple of clarifications:
There should only be three comments to this post: the two contestants, and mine.
If you have any questions, jokes or editorial remarks, reply to my comment.
CLARIFICATIONS: You cannot email me votes. Vote for the best comment, regardless of how good (or bad) you think it is. Please make your vote a simple "+1". Do not "recommend" the comment – it won't count.
Do not make efforts to "get out the vote" on Twitter or elsewhere.
If you are playing, you can vote for yourself or you can vote for the other guy. Too many people are parsing the voter rolls to see who the participants might be. But I won't count the vote in the final tally in either case.
Do not tell others if or when you are participating in a game.
When in doubt, consult the rules.
If it's not against one of the rules, it's fair game. So feel free to make fun of the tournament, me, the burner names, Nick Denton or whomever or whatever on Twitter or in the replies to my comment.
Have fun!
Remember the morning after the Boston Marathon bombings, when the Chicago Tribune dedicated the front page of its sports section to the city of Boston and its sports teams? That was a very sweet thing for the Tribune to do! But now, with the Bruins and Blackhawks facing each other in the Stanley Cup finals, the Chicago paper wants everyone in Boston to know that the time for sympathizing is over.
Here's a page that ran in a supplemental section of the Wednesday edition of the Chicago Tribune:
This may seem harsh, but the fact that people are starting to feel comfortable with hating Boston sports teams is as good a sign as any that things are getting back to normal.