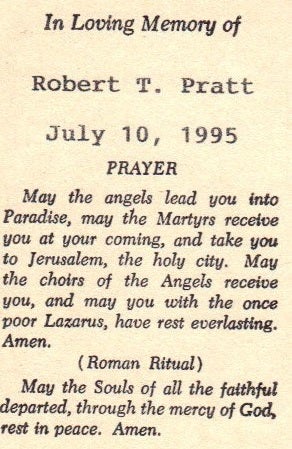 The golf course exists as a place reserved for relaxation and a step away from the workaday problems from which we all suffer. There should never be anything more violent than a club striking a Titleist, excepting perhaps the thrown club, the kicked ball, or the well-timed explosive curse. The course is where we go to spend an afternoon with the boys, have a few beers, smoke a few cigars, and duff our way around.
But in the early hours of a July 1995 day, a single gunshot fractured the darkened and innocent silence of the course we all considered our home away from home.
This is not the lament of the loss of an old friend, but instead the story of a 17 year-long Irish wake that followed a loss which profoundly impacted our young lives. A group of friends turned a tragedy into a hooley with a heart - a golf tournament, a celebration, that became not a part of what we did, but instead a confirmation of who we were. What follows is the story of the birth, rise, and eventual closing of a summertime tradition - the Robert T. Pratt Invitational.
(Chris George, left, and Tom "Muzzy" Stevens, right)
We all had two things in common - our heritage and our loyalty. Everyone in our group was Irish to one degree or another. We were mainly Irish Catholic too, as they sometimes seem to go hand-in-hand. We were young and irresponsible; kids really, with kid-like names: Muzzy, Georgie, Cubby, Waff, Pete Nice, Vito, Ass-Chew, Timmy, Jabber. "Bobby was 'B-Flats,'" according to Tom "Muzzy" Stevens, "because he was always flat broke." I spoke with Stevens and Chris George, "Georgie," at the pub where we all used to drink and carouse.
Muzzy first met Bobby Pratt through a mutual friend in high school. Following the traditions of the tight knit Irish community, their fathers knew each other from their own childhood. Chris George knew Pratt from high school as well, but mostly spent time with Bobby at a local municipal course where George worked. True to his broke ways, Bobby rarely had money to play, and George eventually just gave Bobby his own cart key. "He never had more than four dollars in his pocket," George recalled. Bobby would even go so far as to fill up his car's gas tank at the course where George worked, simply because he didn't have the money to buy it on his own. "Bobby definitely enjoyed the perks of my job," George would say.
Bobby was known as a hellraiser, but he always had a mischievous gleam in his eye. There were nights where Bobby and George would be at the course at two o'clock in the morning. "We'd open up the barn, drive carts around, do 360s, and golf," says George. They would also golf with just three clubs, and Bobby would par out most holes. "I got better playing golf with him," George said. According to Muzzy, one time in on Spring Break in Myrtle Beach, Bobby caught the flu. Not letting that stop him, he had a few beers and eventually passed out on the beach, getting a severe sunburn on top of his flu. He would spend the majority of his time in bed, but would engage in the hotel room antics of his friends. When a young, complaining woman had too much to drink and suggested jumping off the balcony into the pool for fun, Bobby lifted his head and told her, "Don't hit the water. I don't want you wet and bitchy too."
Bobby Pratt was a loyal friend, the kind you'd want to have on your side. It didn't matter if you were in the right or in the wrong, Bobby had your back. It was part of the code we lived by. "You're my friend, I don't have to like you," says Muzzy. Pratt would stick up for you in any situation, as evidenced by the scrapes he'd get into when defending his friends. This didn't mean you were off the hook when things calmed down. If you had to get chewed out for being wrong or doing something stupid, you'd have to face the music. But it never happened in front of any outsiders. That was the code.
When Bobby took his life, it was devastating to everyone who knew him. The word got around our group quickly. "Georgie called me," Muzzy recalls, "and asked if I heard what happened to Bobby." Chris George heard from his own brother. "I had overslept and missed work. I was just getting out of the shower when my brother called and told me to sit down," George said, "and I just crumbled." We were all young and this was the first time most of us had lost someone our own age. Everything we had ever done was always in the moment. "We never wanted to miss a night out. We might miss something big," Muzzy said. But now things had irrevocably changed. We wanted to memorialize our friend, but nobody really knew what to do. That's when the seed of a memorial golf tournament began to germinate. The organizers knew they wanted to give back in the form of a high school scholarship in Bobby's name. Nobody was really an over-achiever, nobody was from the top of their graduating class, Bobby included. It was decided that a tournament would be created to raise money to give to a high school golfer from Bobby's alma mater, but not for the best golfer. Instead, the scholarship would go to the most deserving golfer, the one who was competitive. In short, it would go to the kid who maybe wouldn't otherwise get any other scholarship. "The hook was the scholarship," Muzzy said. "The average yearly scholarship was $500," added George. "We told each kid, 'Buy whatever you want with the money. Have fun with it,' and the look on their faces made it all worthwhile." Any leftover money always went in two directions: to philanthropies and back into the RTP Invitational.
The event organizers created the Robert T. Pratt Invitational in a very organic way. Since they didn't have the necessary funds set up, everything was dependant upon out-of-pocket money and the generosity of friends. There were t-shirts designed, money for prizes, and "nonexistent concrete planning for it," according to George. "I put about $1000 worth of booze in the tournament in the beginning," says Muzzy. The first RTP set the blueprint for the 16 that followed. According to Muzzy and George it went something like this: meet about a month before the tournament was to be held, assess what was had and what was needed, pony up the money, and get as drunk as humanly possible the night before the event. "It was a great celebration of a good guy. It was something he loved to do, and we loved to do it with him," says George.
"The Pratt," as it came to be known, was held at two separate golf courses over the years. The first course was chosen out of necessity. It was available at the time when others were booked. However, by the third year, the tournament found itself back on what we all considered to be our "home" course. This was also the course where Bobby took his life. It was bittersweet, but as George would say, "We were definitely at home." The first year was a grand success. There were over twenty teams signed up, and it was everything that people in their early 20s could imagine a tournament of their creation to be. There was a keg at the turn, food, booze, prizes, plenty of old friends, Bobby's family participated, and everything came off without a hitch. However, some things needed to change. For example, George didn't like the t-shirts the first year, so he took to designing them himself. For the first seven or eight years, the tournament was held on a Sunday, so that meant people had to take Monday off of work to recuperate. Thankfully, that would change when the tourney eventually acquired a Saturday slot. The post-tourney dinner was always a task as well. The organizers moved the dinners from place to place, even going so far as to have one at an Irish bar which had a huge grill out back. The golfers would be able to grill their own steaks, which was a much bigger success than people predicted.
Each year the tournament grew and grew, reaching a peak of 34 teams in 2001. "I was up all night, then went to the course to set up," says Muzzy. "I forgot the golf balls, there weren't enough carts, and I had to walk!" As the tournament grew, the organizers and participants grew as well. Soon girlfriends became wives. Some wives became ex-wives. These young and carefree men were now settling down to raise families, but the Pratt Invitational went on, summer after summer. This isn't to say that there weren't any bumps in the road. Around 2002, some money went missing and that left the boys scrambling to cover the cost of the scholarship. People got angry, a certain innocence was lost, and this was the beginning of the eventual end to the tournament. "Things were never the same," said George, "lives started going sideways."
In the final years, the number of participating teams began to dwindle, until it was just a small turnout in the end. While George says that he wishes the tourney could have reached the 20-year mark, seventeen years is nothing to scoff at. That's seventeen years of kids getting scholarships, who may not have otherwise received any. That's seventeen years of laughter and stories. Seventeen years of memories. Seventeen years of watching people grow, mature, become fathers and mothers. Seventeen years of remembering Bobby, B-Flats, our friend.
In the end, at the last Robert T. Pratt Invitational, everyone knew the time had come to say goodbye once more. However this time, it was with a smile and a sense of successful closure. It was the end of a very long and successful Irish Wake. We celebrated the life of a great friend who left an indelible mark on everyone he met. We still see each other from time to time, staying up to date through Facebook and other social media. We run into one another at various golf tournaments each summer, and when we do, we all say the same thing.
"I miss the Pratt."