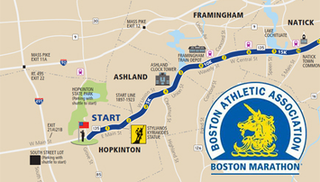 In a race the size and quality of the Boston Marathon, only a select group of runners will compete for the title, and nearly as few can hope to win an age group award. The rest of us must create our own personal "race within the race". Maybe we're hoping to PR. Maybe we're hoping to beat Oprah. But usually we're just trying to BQ: qualify for Boston.
As you've probably heard, you can't just log onto active.com and sign up for Boston. Unless you know a sponsor, or are willing to raise thousands of dollars for charity, you need a qualifying time. Runners under the age of 35 must meet the open standard, and then roughly five minutes of additional time is added to each successive five-year age group's standard.
Two years ago, these qualifying times were dropped approximately 6 minutes for each age group. (Interestingly, many suspect that a bad economy was to blame – it turns out that when people are un- or under-employed, they run more.) So, for example, the open qualifying time for a male went from 3:10:59 to 3:05:00, a not-insignificant drop in time. Thus, the prestige associated with qualifying for Boston is as high as ever.
Once you obtain a qualifying time, it is good for that marathon season (which starts roughly in September) and the following season. So, theoretically, if you BQ'ed in Chicago in October 2013, you could use that time for that season's Boston (April 2014) or the following Boston (April 2015). I say "theoretically" because Boston registration begins and ends in September, so by the time you run the Chicago marathon in 2013, the 2014 race is almost certainly sold out. So practically speaking, a BQ time can only be used for the following season's Boston marathon.
Not surprisingly, a big source of BQ times is the Boston marathon itself. Assuming good weather, a little over half of the Boston field will usually qualify for the next Boston marathon — the biggest percentage of qualifiers for any race by a large margin. In fact, many people just keep running Boston year after year, with no need to chase BQ times elsewhere. But if you don't qualify at the Boston you're running, you may be completely shut out of the next installment. That's because by the time you recover from the current Boston, the warmth (and empty race schedule) of summer will be upon you, providing almost no chance to BQ before the September registration period.
So the upshot of all of this is that qualifying for Boston at Boston itself is a big deal. With a BQ time, you can sit back and enjoy the summer. Without a BQ time, you're probably two years away from running Boston again.
This post will track one such runner's dramatic quest to BQ at this year's Boston. All identifying information has been redacted (and please don't try to figure out who he is – we will delete and ban anyone trying to name names). The runner at issue is a male in his young 40s. The Boston qualifying standard for a male aged 40 to 44 is 3:15:00 (7:27/mile pace). Let's see how he does!
5K SPLIT: 21:43 (6:59/mile)
Easy, tiger! This is pretty quick for a 40-something guy, and well under the BQ standard. Maybe he has some bigger goal in mind (under three hours?), or maybe he's just taking advantage of Boston's famous early downhill miles. Either way, many a great marathoner has paid for fast early miles, so even just three miles in, there's a need to be cautious.
15K SPLIT: 1:05:24 (7:01/mile)
Not bad. We're over 9 miles in, and he's basically holding pace. The hardest part is yet to come, and while sub-3:00 is now out of the question, all of his goals must be in front of him. This is a steady first third of the race.
HALF SPLIT: 1:32:47 (7:05/mile)
OK, slowing a little, but not a crash. This could be signs of an intentional correction, or could just be the inevitable manifestation of age. Getting old is a bitch.
30K SPLIT: 2:14:36 (7:13/mile)
Well, now I'm starting to get worried. Some say the race doesn't start until mile 20; it's not even mile 19, and we're already hitting the brakes. The fast early miles are starting to take their toll, but still a great chance to hold on for a nice time.
40K SPLIT: 3:04:24 (7:25/mile)
Boy, we are really going to cut this close. Whatever the initial goal was, the new goal has to be a 3:15:00 or better. The good thing is that he still has a cushion of 2 seconds per mile, and he's now out of the hills — the excitement of the finish line could easily bring a second wind of speed.
NOOOOOOOOOOOOOOOOOOOOOOO!!!!!!!!