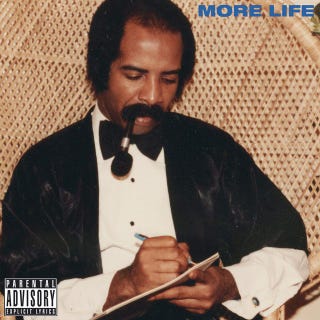 If there's anything that 2017 didn't need it's a new Drake album.

Sorry, "Playlist." Actually hold on, we're gonna get this out of the way:

The notion of a "mixtape" or "playlist" is a bunch of millennial-conceived bullshit. A collection of music that barely fits on two 12" LP's is not some cutesy, half-assed meaningless name like "mixtape" or "playlist." It's an album. But they're not albums! you're mewling, they're side projects! Really? Coloring Book was a side project? If You're Reading This… and What a Time… were side projects? For what? The objectively terrible VIEWS?

The overarching thinking here, apparently, is calling it a "mixtape" exonerates the artists if it's bad, because critics won't bother with a bad "mixtape," because no one will care. Music criticism is a business, and writers aren't droppin' bars to write about shovelware "playlists" that people have no interest in because they stink. You heard about Future getting back-to-back #1 albums, but how much did you hear about the robustly middling EVOL? "Basically none," you say? Meanwhile, The Weeknd had the big brass ones to put out a real, well-promoted album that ended up being similarly unremarkable – and how much did you hear about the mediocrity of Starboy?

(I'm uncomfortable applauding the guy who released "False Alarm" for his conviction.)

But then there's the perverse (and pervasive) issue of length and track count, which is proving nothing more than a thinly veiled way to spoof Billboard for ratings. Sell 10 tracks, get an album unit… but if Drake sells 22 tracks, he gets 2.2 album units. Who wouldn't want that? Who wouldn't wait for a hit like "Fake Love" just to shove it on the record? The song came out half a year ago, but who cares if the decision makes sense if it gets streams? Oh, and in case you missed that, More Life – to reiterate – deliberately has the abysmal "Fake Love" on it.

That's all that popular "half-hop" is now – a big fuckin' stunt designed to insulate artists and screw listeners to max out sales. When the next Nicki Minaj release drops, look for a double "mixtape/playlist" that's 35 tracks long and makes 2Pac's epic All Eyez on Me look like "Goodnight Moon." If this shit comes physically packaged it'll be bigger than the Gutenberg Bible. It'll be an Apple Music exclusive where you can sign up for $9 a month, or buy the digital release for just $9.99! and immediately delete the half that's garbage. Any 35 song release is half garbage, but why would she care, she gets 3.5 equivalent sales! Then she'll shove it down that bitch Remy Ma's throat and say she's the queen by quoting the sales numbers she deliberately fucking rigged.

And the coup de grace? If it stinks but sold well, you're a hater; if it stinks and sold poorly, it was "just a mixtape." And if it's good? Well, people will just talk about it being good (ahem: Chance). There is no losing scenario for the artists here. And that's the task for More Life: offer criticism of a piece of ostensible "art" that was designed to thumb its nose at your time and patience to mine for "sales," and deliberately position itself to bask in an endless mountain of praise yet fly under the radar when it comes to any significant criticism.
Hmm.
---
More Life is good. You should listen to it.
Drake – More Life
82/100
(1)For further evidence of this phenomena, consider: Nothing Was the Same – 13 tracks; If You're Reading This it's Too Late – 17 tracks; VIEWS – 20 tracks; More Life – 22 tracks.

---
notsomethingstructural (aka @nss_ds) is an amateur listicle purveyor and the author of "The 25 Best Hip Hop Albums of All Time". He co-authored the record-setting #WorstSongBracket and is terrible at Twitter. He is nice and responds to emails.