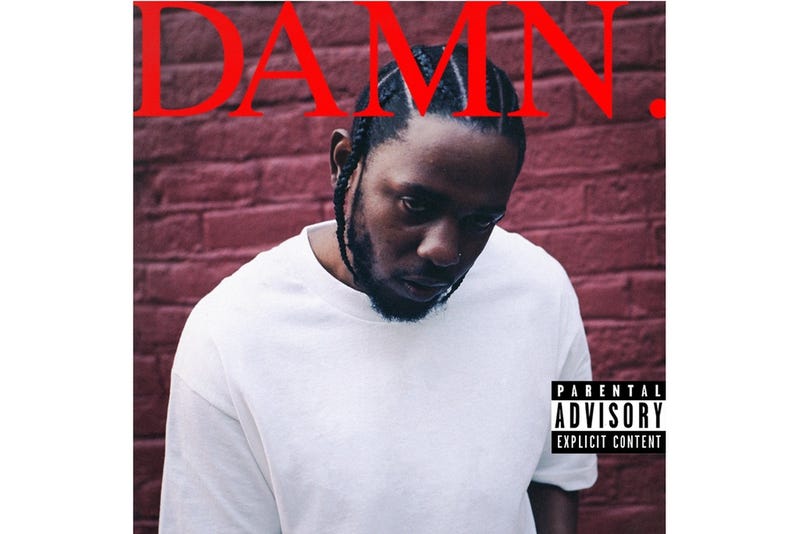 Can we do this now? Let's do it now. "DNA." is the best song of 2017. For songs released between 4/15/17 and 12/31/17 the registration deadline has passed. Everything else, thanks for playing. Kendrick Lamar doesn't pick beef on tracks like "DNA.", he transports you to a plane of existence where other rappers were never born. He doesn't need to drop names, he doesn't need a hook – hell, he doesn't need anything other than a sub-kick and a hi-hat – to make sure Drake and Big Sean and Geraldo Rivera's next interviews have them answering: "what did you think of 'DNA.'?"
The sheer dominance it takes to turn a self-professed adversary into a memory is fucking nuts(1). And yet, in a one-listen Q&A, Sean Fennessey perfectly articulated the well-founded hesitations about Kendrick: "He is our greatest rapper and also our most overrated rapper." How?

Kendrick Lamar Duckworth might have a higher ceiling than any rapper who ever came before him. His record shows he was born to be a rapper: Biggie, Andre 3000, Ghostface, maybe a couple others share the distinction. They're alchemists, so naturally proficient at turning rhythm into melody that "divinity" is the only way to explain it. The success of Dre and Jay Z were as born entrepreneurs; Nas was born to write. Drake was born to be an entertainer, but wants to be a rapper.

That right there is the dilemma with Kendrick. Ironically the same one as Drake's: "wants to be." To Pimp a Butterfly failed to out-Kanye My Beautiful Dark Twisted Fantasy and Yeezus at the same time, but not for a lack of effort. Kanye was born an artist. Kendrick, meanwhile, was born to rap, but man: he wants to be an artist. And there's just this ongoing discomfort in even passively enabling such borderline denial. Imagine if Usain Bolt only ran the 400 – he's really, really fucking good, you'd say, but why wouldn't he run the 200 if he's setting records?
Finally – finally­ – DAMN. has Kendrick Lamar embracing what he was put on Earth to do.

Yes, Kendrick Lamar has arrived, in whatever outstanding sense it's possible for The Best Rapper Alive to "arrive."(2) Fans still talking down the "yeah but" crowd can end the discussions – this is what you waited for. There's no hyper-extended sense of purpose or overarching narrative style on DAMN., it's just a rap album, in the same way that Ready to Die, The Love Below, and Supreme Clientele are "just" rap albums. And it's great.

It's refreshing to hear a Kendrick where he's liberated from his own mind. The stories develop organically with the songs built around them, instead of shoehorning absurdly complex messages into a concept album two sizes too small. It's much more personal, his actual fears and actual life spilling out for dissection. He acknowledges as much: "niggas thought that K-Dot real life was the same life they see on TV, huh?" He gave himself to us for two albums; DAMN. feels like Kendrick's.

There's a timeless vibe that floats over DAMN., like it's capable of coexisting in both 1997 Compton and 2007 Chicago despite being ahead of its Atlanta influences in 2017. There are soul samples aplenty, most notably on "FEAR." and 9th Wonder's spectacular two-movement "DUCKWORTH." One track steps backwards with 808's; the next moves its trap influences into the spotlight. There's the extremely 2Pac refrain "Ain't nobody prayin' for me" on "FEEL."; there's the de rigeur appearances of the "Versace Flow." Hell, "LOYALTY." is a leftover from Nothing Was the Same in the absence of Kendrick(3); swap Zachari for The Weeknd and "LOVE." could have made the final cut for More Life. It's a bit odd, though, in the Faustian Bargain of making an album that's pure rap, for the first time he's almost humanized as a stand-in on his own songs.

Actually – wait… Kendrick is a better stand-in than other artists on their songs. There we go.

And that's the ultimate takeaway, here. DAMN. is the closest Kendrick Lamar has ever deigned to stand by his contemporaries, but they're in the lobby while he's on the roof. However proximal, there's still an obvious rift in sensibilities between Drake and Kendrick and Travis Scott. But talent-wise? Rapping ability? It's a chasm. There's no justification in anything a critic could say about it. And by showing us he wants to be a rapper first, Kendrick Lamar proves he's the Best Rapper Alive. No more "buts."

Kendrick Lamar – DAMN.
91/100
(1)Remember Jay Electonica?
(2)Using "Best Rapper Alive" as the titular distinction of "most ubiquitous/talented rapper" and not the literal distinction – yet.
(3)Crazy that it's been almost a half-decade since Drake put out a remotely decent album. Great Rihanna cameo though.
---
notsomethingstructural (aka @nss_ds) is an amateur listicle purveyor and the author of "The 25 Best Hip Hop Albums of All Time". He co-authored the record-setting #WorstSongBracket and is terrible at Twitter. He is nice and responds to emails.