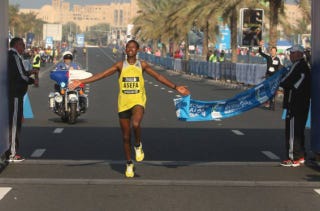 While you were sleeping, a bunch of fast guys you've never heard of ran the Dubai Marathon. I get it; no one follows the marathon. But maybe this will grab your attention: a kid who would be in his senior year of high school just ran 26 straight 4:45 miles.
Tsegaye Mekonnen Asefa, an 18-year old from suburban Richmond, Virginia (sike), set the world junior record with a frankly unfathomable time of 2:04:32. Let's put that in perspective. Galen Rupp, silver medalist in the 10K at the London Olympics, is almost certainly the greatest young distance runner our country has ever seen. In 2004, Rupp set the American high school record at 5000 meters with a time of 13:37, and later that year ran a 29:09 10K, the fourth fastest high school time at that distance. Those are amazing times.
According to race reports, Asefa ran the first 5K in 13:42, and hit 10K in 29:04. The marathon is a 42 kilometer race. Asefa just ran an elite high school 5K...eight and a half times in a row. He ran four consecutive All-American 10Ks. He was a minute off the world record. He is also $200,000 richer, which is decent money in Ethiopia.
And, to state the obvious, he would be the fastest American marathoner of all-time, regardless of age. The sad fact is that we're getting better, and still losing ground.