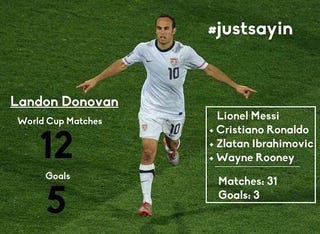 It's finally that time of year, folks. 2 weeks until the start of the 2014 World Cup in Brazil.
And to celebrate, I'm announcing Deadspin/Sidespin's very own competition. The rules are simple: the entry with the most points at the end will win...something. Still to be determined. That said, I'll be abroad this summer, so I might bring you back some trinket or doodad. You just don't know.
Before we start, I will say that this pool may be a bit more involved than your average pick Spain to win the whole thing and that's it. Now, for some, that might be off-putting. But if you're reading this, you're on a side-blog of a sports blog, so I'm not worried.
Here's how it works, I have a spreadsheet from a prior job that is a marvel. I've updated it for 2014, but the instructions remain the same. All you have to do is enter the score of each game in the gray boxes. The spreadsheet will automatically update the standings and place teams in the knockout rounds in the proper order. I told you, it's really freaking cool.
Here's how the scoring will work: In the group stage, you get 1 point for predicting the correct result, and 3 points for predicting the exact score. So if Brazil beats Croatia 17-0 in the opening game, and you said Brazil would win 2-1, you'd get a point. Ties work in the same way, so if you said it would be a 2-2 tie, and it's a 1-1 tie, you'd get a point as well.
In the knockout stages, it goes:
Round of 16: 2 points for correct result, 4 for exact score
(NOTE: you can only get exact score if you've picked both teams correctly. So, if you have Brazil against Spain in the Rd of 16, and have Brazil winning, but Brazil actually plays Chile and wins, you'd get 2 points, even if you have the Brazil/Chile score correct. IT MAKES SENSE I PROMISE)
ETA: OK. If you think the game will go to PKs, put down the result as if it were a win, but highlight the score in red or some other color. So if you think Brazil will beat Spain on PKs after a 2-2 game, write Brazil 3, Spain 2, and highlight Brazil's score in red. If you pick Brazil to win 3-1 normally, and they end up winning on PKs, you'll get points for the result. We'll treat extra time goals as if they were in regular time, so if you pick Brazil to win 3-1, and they score 2 goals in extra time to win 3-1, you'll get full result and exact score points.
Quarterfinals: 4 points for correct result, 8 for exact score
Semis: 6 points for correct result, 10 for exact score
Finals: 10 points for correct result, 15 for exact score
So that's it, pretty simple, right. As a tiebreaker, on the right side of the sheet, you can pick your top 3 goal-scorers for the entire tournament, in any order. At the end, if there's a tie, whoever picked more of the top 3 correct will win, and if there's a tie, we'll go by who picked 1st, 2nd, etc. Again, very unlikely.
TO ENTER: There are two ways to enter. First, you can send an email to DeadspinWorldCupPool @ gmail . com and I will reply with the spreadsheet, which you should then send back. The other way is to DM me on Twitter, @amharris26, with your email, and I will send along the spreadsheet. In your email, please let me know what name you want to use for your entry in the standings, which I'll update regularly on this here blog.
NOTE: Because I am only one person and have no automated way of doing this, I'm going to have to cap the entries at 50. If, for some reason, we have crazy overwhelming demand (unlikely), I'll see what I can do. ETA: Plenty of space left folks. Keep the sign-ups coming.
* * *
So please, test your luck. You may think, hey wait, I know nothing about soccer, but I mean seriously, have you seen who wins the NCAA pools? So good luck, and as they say in Brazil, Boa Sorte!