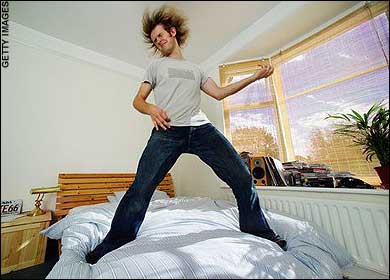 So I know some of you were pretty angry at this debacle, and, to be honest, it discouraged me from conversing with others for almost four full days. But now we've moved past that, and the time is right for a new beginning. With a new game!
The rules are the same as in prior games, except this time we're dealing with the names of music groups. The clue will refer not to any specific songs, but to the name of a well-known group. These groups span multiple genres and time periods, though I don't believe any of them are from before the 70s.
This should add some freshness to it, and honestly it was more fun making these up than it was for the movie ones. I'm not going to make any statements as to the difficulty of these (ahem), but I will say that some are relatively easy and others may be more difficult. I tried to start it off with some easier ones. Enjoy!
__________________________
1. These rockers are critically beloved, but not by their mothers. Hey, you try to find a successful band that refuses to play on Friday nights! Slack Sabbath (Raysism)
2. These sweet sisters really know how to bring the house down, and smell lovely doing it. Nuns N' Roses (Morales Turpitude)
3. This solo artist just got off the sauce, signed an endorsement with Right Guard, and has a wicked sense of humor. Dr. Dry (DougExeter)
4. Sure, these guys may be technically zombies, but that doesn't mean they don't know where a salad fork goes or how to execute a perfect pirouette. Graceful Dead (Morales Turpitude)
5. This group doesn't care for all the newfangled auto-tune and synthesizers, and only sings in riddles in ancient Elvish. Hell, if it were up to them, they'd just rub two sticks together and call it a day! Arcane Fire (Cobra, Brah!)
6. This crooner's music has always had a little of that hippity-hop. Good luck if you can find his album, though; it's not even available in this hemisphere. (1970s)
7. Ever since a tragic kite-flying accident crippled his lower-body, this singer's music has risen to the top of the charts. Props if you can sign your name on his trademark performing stool. Twisted Sitter (DougExeter)
8. This duo, formed from an ex-rocker and a current politician, delights crowds across the country. Be sure to check out the politician's distinctive tongue wag – the ladies certainly do! Huey Lewis & the Newt (PetersonNorth)
9. This NYC group isn't exactly a headliner, with only 10 hits out of 100 songs released. Unfortunately for their record label, however, they're owed $100 million over the next three years. (1980s) (Read BBAM's comment below, he's on the right track) Met at Work (DougExeter h/t BBAM)
10. This bland, boring songstress brings to mind more a bar-mitzvah feast or Rosh Hashanah dinner than an arena. (2010s) Ka$ha (Sgt. Hammerclaw)
Update 1 (1:57pm): Hint #1 coming at 2:15pm
Update 2 (2:45pm): Hint #2 coming at 3:00pm
Update 3 (4:20pm):
Update 4/Hint 3 (4:40pm):
Hint 1 (2:15pm): Decade of 1st released album in parentheses
Hint 2 (3:00pm): Special suggestions as to the answers
UPDATE 5 (5:21): IT'S ALL OVER. ONLY TOOK YOU GUYS 6 HOURS. GIVE YOURSELF A PAT ON THE BACK, YOU'VE EARNED IT.