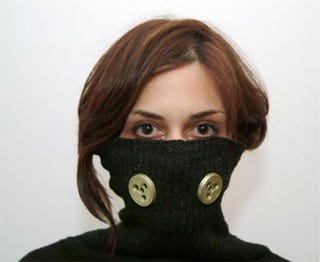 It seems like just yesterday, when this fine collection listed below was toiling in the collegiate ranks, living-off of Ramen noodles and half-assing term papers. Now they're ready for the big time. For your leisure, I have compiled the top 5 eligible draftees, ranked solely on functionality and performance, and not taking into account the teams that will likely be drafting in the positions and their needs heading into the 2013-14 season. Don't forget to leave your comments below, I won't read them.
5) Men's Grey Mock Turtleneck Sweater
For the team that's a little low on ducats, but still requires the fashion conscious panache that comes with a turtleneck, there's this lovely piece that will fit every member on your team. Want the world to know you have arms shorter than that of the closet case that hosts America's Funniest Home Videos? Well then, this turtleneck is for you. If you think those sleeves are of an excessive length, ask Greg Oden what it's like to kneel on the fuselage of his man meat while praying to the basketball gods. No seriously, ask him, I'm curious what it's like to have a big penis.
————————————————————————————————————————————————-
4) Boy's White Mock Turtleneck Sweater (bow Tie & cummerbund optional)
This versatile piece is perfect for the team looking to have their mother dictate their sexual preferences. The satin bow tie and cummerbund aren't just for show, they're functional as well. What better way to smother mother as she naps on the sectional than with a cummerbund? What's that Lyle, you wanted to play soccer? Too frickin' bad, you've been enrolled in twelve months of dance lessons and there ain't a damn thing you can do about it. This form-fitting number, complete with washing instructions for ridding the garment of pesky reproductive fluids, comes in a bevy of sizes. Next time somebody asks Lyle if his shirt comes in Men's, he can very matter-of-factly reply with a "yes, and so do I."
————————————————————————————————————————————————-
3) Women's Sleeveless Mock Turtleneck 'Shirt?'
On your way to see Parquet Courts at SXSW? Me neither, they're so last month. For the woman that has everything, and at the same time nothing at all, comes this trendy piece from some granola aficionado's Etsy page. As pictured, this number can be paired perfectly with a stonewashed denim skirt worn above the naval, and the poly-cotton blend is ideal for absorbing a host of liquids, like bong water, acrylic paints and bong water. The turtleneck element will help to keep you warm and cover the regrettable Vampire Weekend tattoo on your neck, while the lack of material will tell the world "I'll fuck you for a ride on your fixie and a taste of anything organic."
————————————————————————————————————————————————-
2) Women's Fire Brick Red Mock Turtleneck Sweater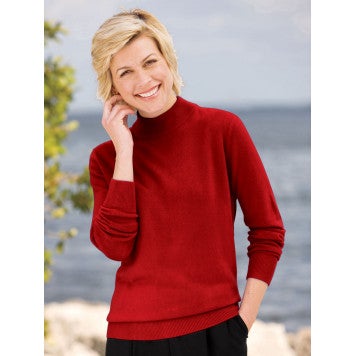 "Hello, Joanne, is that you? It's Sue. I can't believe I'm getting service out here. Never mind how you are, you'll never believe where I am. Why yes, that is the sound of water gently caressing broad rocks as driftwood settles in their midst like freshly-cut chives placed gently upon a sour cream baked potato. Fuck, that sounds great. Anyways, I'm in Martha's Vinyard, being photographed in a functional fire brick red mock turtleneck sweater for the next L.L. Bean catalogue. Long story, but I just felt like I needed to do something for myself since I found out Gary was fucking that Asian trollop from his office. Shoot, I've gotta run, the photographer keeps calling me Natalee Hollaway and is quite possibly masturbating into my makeup bag. Toodles"
————————————————————————————————————————————————-
1) Men's 'Baseball' Mock Turtleneck Sweater
Should the pinstripe pants and tattered glove not be a dead giveaway, suck subtlety's dick and make certain that everybody gathered at the baseball diamond knows that you're there to play baseball. This sporty number, pictured here in ebony, and on the pages of Ebony, March, 1996, is an essential part of any baseball fan's collection, both novice beer league players and novice beer league players alike.
————————————————————————————————————————————————-