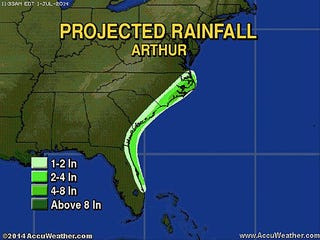 As some of you know, I live in Charleston, SC, and tonight we're projected to get a bit of weather from a "tropical system" or "depression" or "hurricane" or some such. I'll be checking in periodically with any updates on what I'm sure will be a lackluster performance on the part of Arthur, but permit one to hope.
7:41 PM: [taking what will almost assuredly be the last shower of my life] I should drunkenly live-blog this stupid storm. I bet literally no one has thought of that yet!
7:53 PM: Oh fuck oh fuck oh fuck oh fuck I'm supposed to be cooking scallops for my lady friend tonight. At least if we're going to die, we'll die together, full of scallops and ... [hunts through refrigerator] baked asparagus it is! Shit. Why did I get drunk and decide to do a drunken live-blog of hurricane Arthur?
8:20 PM: No sign of Arthur yet, and no sign of my girlfriend, who apparently can't find her shoes. I'm sure these seemingly unrelated cosmic events have nothing to do with one another. As for the weather itself, temperature is hovering in the low 90's, and there isn't a whiff of wind. Wait, there's some wind—and it's gone.
8:22 PM: STOP HARASSING ME ON TWITTER, GRUNGEBANJO.
9:40 PM: Well, dinner was just marvelous, and the lady found her shoes at last. And wine! Cheap, cheap wine! I'm happy to see so much love and support in the comments, so please keep that coming.
Let's have a look at the weather. Well, it's steamy and the humidity is downright chewable. Like warm, unsalted butter chewable. Mmmmmmm. Arthur still hasn't shown his face, but when he does we'll be ready (drunk). Stay tuned.
12:34 AM: We have passed the window within which Arthur was to show up. I've had 5 Fernet shots, lady has had four and a few ciders. We lost count of the PBR's, but it was a lot. I think. Anyway. The humidity, it seems, has only intensified, and the cloud cover is giving us a beautiful view of the southern night sky. There's Orion! And the moon! Both clearly visible through no cloud cover.
Our bunker—Cutty's Notary Public—has been quite generous. Much drinks. Smashing Pumpkins for days. The Lithium channel on Sirius Radio has not let us down, to the extent that Gin Blossoms has re-entered my regular playlist. Fight me.
Wind?! ... No, offshore breeze. This fucking hurricane sucks ass.
12:43 AM: Smattering of rain with no real effect on the human element. We're here, we're queer, and we scoff at your weak attempts, Arthur. You fucking suck, Arthur. You come charging in from the bullpen to jaw and flex but you flinch. You can't handle Chucktown, baby. You're a goddamn weak-ass motherfucker who wreaks havoc on those privileged assholes in North Carolina. Elitist asshat bitch. I DARE YOU TO SHIT ON CHARLESTON.
1:12 AM: I can safely say that Arthur cock-teased Chucktown. Look at us! We're all shithoused, and Mr. Hurricane decides to loop north and east. FUCK NORTH AND EAST YOU NORTHEAST ELITIST ASSHAT.
We've had some beer. Quite a bit of beer. We've also had minimal weather ... to the extent that I'm walking around the neighborhood screaming about a hurricane that never came. Stupid weather.
What I can and will say is this: this has been a sort-of-drunken-live-blog of Hurricane Arthur, which in reality never graced South Carolina's shores. Some were expecting Hugo Redux—which would have wrecked many Charlestonians—and that thankfully didn't happen.
You want anticlimax? Here's your ..........