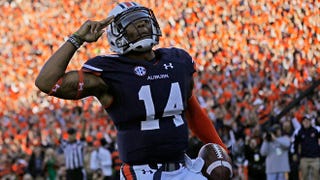 It's a little unfair that every time an amateur athlete compensation lawsuit is filed or a new concussion story goes up, we trot out the same finger-wagging thinkpieces designed to help us figure out how to feel less guilty about loving football.
While half the country is writhing in ecstasy over the result of the SEC Championship or maybe one of its minor satellite tournaments and the other half is turning on the RedZone Channel 3 hours early, let's get a head start on the next temporary moral outrage.
- Remember this brutal out of bounds cart shot on Henry Josey? ESPN doesn't!
Five, count 'em, five stories on the game last night and no one mentions Josey's senseless injury. Well, at least it wasn't a second harrowing injury sustained by the extraordinarily talented running back on a national stage. Oh!
- Fitting, though, that we'd ignore a ridiculously unsafe play on a day that we continued to embrace the military mythos surrounding a children's game. "He was a warrior today," Malzahn said of the young man who carried a football a bunch. "This is a responsible way to talk about fucking football." Maybe he was in some kind of post-game trance.
- But the hyperbole doesn't stop there! Fans are jubilant, the game was miraculous, it restored honor to the University. My god, remember those dark years since Auburn's last title? Think of the shamed professors and students, shuffling gloomily to their classes, dreaming of the halcyon days of championship football and university pride that had been absent for nearly 4 full semesters. It's hard to overstate, really. But we surely fucking try.
Enjoy the games.