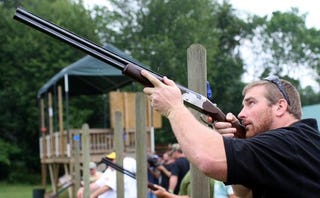 "You get what you pay for."

An old adage, yes. A cliché, perhaps. But seemingly true as it relates to 2010 4th Round "value" draft pick/murder suspect Aaron Hernandez, whose character issues pre-draft were well-documented.*
According to Matt Light, Patriots Left Tackle from 2001-2011 and a teammate of Hernandez for two seasons, the young tight end never fit in with the Patriot Way.

But also according to Matt Light, "[Matt Light] doesn't talk about other guys."

"Never."
"I will say I have never embraced — never believed in — anything Aaron Hernandez stood for," Matt Light, who never talks about other guys, said to the Dayton Daily News this week.
But this raises a few questions. Perhaps most obviously, was the Matt Light who supplied this quote to the Dayton Daily News the same Matt Light who never talks about other guys? And if so, does that make former Patriots OL Matt Light a liar? Further, could Matt Light's untruthfulness and character issues have explained his precipitous drop to the 2nd round (48th overall) of the 2001 NFL Draft?**
Sources indicate that Matt Light may, indeed, not have perfect judgment. He's been photographed holding (even aiming) a gun, and flashing possible gang signs.
But Matt Light isn't the only one putting his questionable judgment on display. In 2012, Light joined ESPN as an NFL analyst, appearing on multiple programs during the season, almost exclusively with other employees of ESPN who have presumably not been trained in self-defense techniques. What this means for the safety of ESPN and its employees is unclear, but one thing is for certain: The Patriot Way is in shambles. Who will pick up the pieces?
*No word on whether draft expert Mel Kiper, Jr. will make himself available for the prosecution in Hernandez' high-profile murder case
**Noted character-issue-haver Chad Johnson was drafted 36th overall by the Cincinnati Bengals, a team known for its character-issue-having players