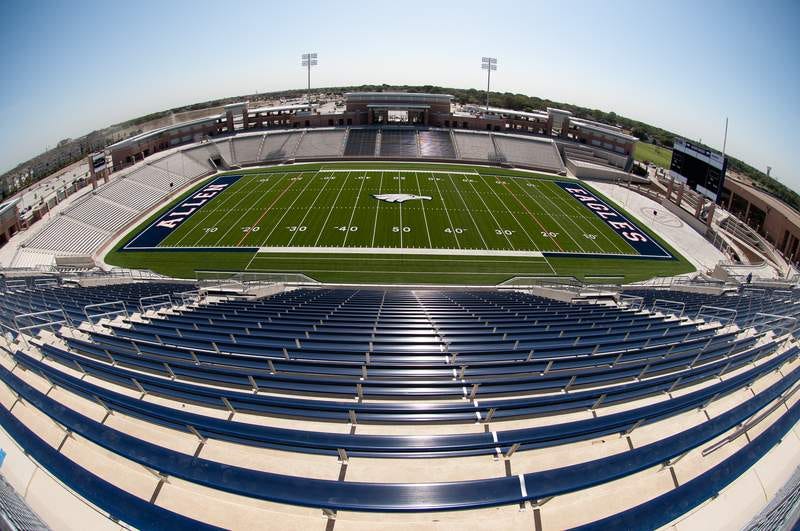 What follows below is a verbatim transcription from a crumpled piece of typewriter paper, which I fortuitously rescued from a Texas football stadium's press box. All errors belong to the original author and—presumably—would have been edited before publication.
MMQB: Meek No More, Mean Machine Mauls Monstrous Manimals Manglers
By: Peter King
ALLENVILLE, TX — Fall Saturdays in Texas comprise two apposite, if not unrelated, American pastimes: avoiding prison and hard-nosed football. And so it's with an air of curiosity and doubt that I've driven out to a small stadium on the outskirts of Allenville, Texas, perhaps known for nothing more than as site of the country's third largest federal penitentiary.
What brings me here today is the 31st-annual football game contest match showdown between the inmates of Allenville Federal Penitentiary and the very men who guard them. Begun in 1974, this spectacle draws thousands from neighboring counties, who come in part for the macabre specter possibility that one of the inmates will seek escape amidst the day's fracas, and in so doing be gunned down by one of the hundreds of armed guards present—easily distinguishable in their military fatigues, and laden with .30-06 hunting rifles, which could explode a man's stomach from over 400 feet away.
I shuffle past one such militia man, nod my pleasantries (getting only silence for reply), and find my way slowly to the press box. The air is electric; ESPN2's Jim Rome is on hand, as is the Mothership's own Chris Berman, who has been invited to call the play-by-play for this most historic of Allenville Shootouts. For, not six months ago, Paul Crewe—yes, that Paul "Wrecking" Crewe—was admitted to the prison sentenced to 15 years hard time after a rather misguided joy ride that left four Dallas-area police officers injured and over $750,000 in public damages. It's for Crewe that I'm here, along with most of the NFL media establishment, and the feeling in the press pool is one of arousal excitement fervour ferver fervor giddiness.
Wrecking Crewe's DUI/grand-theft/reckless-driving trifecta, in retrospect, seems the fitting perfect inevitable coda to a checkered career forever tainted by—you will remember—a point-shaving scandal that rocked the NFL and its loyalists nearly a decade ago. When I interviewed Crewe after his final appeal to the League in 1997, he appeared a broken, dejected man. "I'm tired," he said back then, "I'm just exhausted, and the last thing I want to be doing right now is talking to your fat fucking face," as if to announce his retirement from public life. And, to be sure, very few people had heard from Crewe until the night of his fateful moving violations.
Fast forward 14 months, countless trial dates, deliberations, depositions, custody battles, alimony battles, and appeals upon appeals, and Paul Crewe looks loose and fit, once more on the field where real battles are waged: the field of football the football field the American Gridiron. I'd rush down to ask about his daily regimen but for the ten feet of barbed wire keeping fans and media away from the field of play.
Crewe's teammates on The Mean Machine, such as they are, constitute a mammoth, if uncoordinated, lot. A Motley Crewe, you might say [P.K. note: do not edit this out]. Their opponents, by contrast, run tight warm-up drills, and one wonders if full-speed Oklahomas are altogether healthy just before a full-contact game. A certain Mike? Lambert, the prison guards' defensive centerpiece—who bears a striking resemblance to Bill Romanowski—head-butts the goalposts no less than seven times after missing a form tackle on his own running back. In fact, a number of those in the defensive backfield look familiar to me: Jeff? Roy? Mike? Dunham could easily pass as Stone Cold Steve Austin, and Bruce? Karl? Cal? Mike? Garner is the spitting image of Brian Bosworth. I've never seen the prison guards' quarterback—Rob? Jack? Bart? Drew? Mike? Knauer—before, but his Germanic name and Aryan features tell me that he commands a strong pocket presence and plays the quarterback position in the traditional sense. At any rate, these guys are wired.
If the scene on the field is a study in contrasts, the day's audience couldn't be more disparate. On the one hand, central-rural Texas' gentry have turned out in force, sporting camouflage cargos, steel-toe boots and chaw, after enjoying American light beer, methamphetamine, and barbecue; while on the other hand, one-sixth of the stadium is cordoned off to accommodate Allenville's inmate population. Their white jumpsuits mark them as such, and the Mean Machine's cheerleaders—if you could describe them as cheerleaders; can men be cheerleaders?—offer provocative chants and dances and poses, much to the dismay of those mothers and fathers within earshot.
American football fans expect a maudacum mudocome baseline? display? pomp? ask Gary for his goddamn thesaurus or dictionary again modicum of pomp and circumstance preceding any football event, and suffice to say that the Allenville Shootout will leave many enthusiasts wanting. The National Anthem, while appreciated, was delivered in a grotesquely homosexual manner by none other than an inmate calling "himself" "Ms. Tucker" who fancied "herself" a "woman" even though "she" was a "man" at least anatomically but called "herself" a "woman" and thanked the crowd for supporting "her" "vocal stylings" in support of God and country. I will say this, at least: "Ms." Tucker has some pipes.
As an important football journalist, I value sound fundamentals, pad-level collisions, admirable sportsmanship, exemplary masculinity masculine athleticisim men battling men on the field of play, and relative adherence to the rules of gameplay. All of which is to say that I couldn't be more impressed with the outstanding brawn on display in the Allenville Shootout. I counted seven career-ending injuries on the opening kickoff! The NFL could take a few lessons from this contest and maybe legalize outright haymakers, clotheslines, crotch-shots, after-the-fact-foot-stompings, and unbridled drop-kickings. What is American football if not Man's demonstration of his ability to take a potentially crippling blow?
Notwithstanding the Mean Machine's impressive inexplicable body-on-a-body defense on the opening kickoff, their foe's superior execution resulted in a run-back-for-touchdown on the game's first play. As an outside observer, Crewe's crew [P.K. note: do not edit this out] may have benefited from stronger contain, better vertical approach, and actual tackling of the ball-carrier. Such mental mistakes describe much of the Allenville Shootout's first half, in fact. The prison guards' loss of four key defensive players to injury cannot be overstated, sure, but at times it appeared that the Mean Machine's interests lie in intentional physical injury rather than points scored. Very strange opening strategy, in this writer's opinion.
As an aside, this game's referees—from first to second half—were night and day. I counted four first-half personal fouls uncalled on the part of the guards, and it wasn't until after Crewe threw three unadvised passes straight into the back judge's groin that the umpiring turned around. Odd, but we are in Texas.
Our return from halftime brought some odd drama on the Mean Machine sideline. Down by two touchdowns (21-7), Paul Crewe suddenly began over- or under-throwing his receivers, who, thriving on a depleted secondary, couldn't find open routes. Interestingly, Crewe drew his fourth sack, which—admittedly—was weak and around the ankles, and so felt unable to play in the third quarter. A number of us in the press box mumbled about that point-shaving business, but I couldn't bring myself to buy that. Why would Paul Crewe—a man with nothing to lose, but who, granted, has a history of point-shaving and moral corruptability, a man who might be framed for, say, the hypothetical murder of a fellow inmate named Care Taker, with whom he's been preparing for this, the very football game for which Warden Hazen brought him to Allenville—give in to some invisible force on his ethical compass? Had he not learned his lesson after being banned for life from the NFL? No. That is absolute madness.
The first and second halves of the Allenville Shootout were a tale of two ... halves? ... halves [edit this later, after beers with Michael Irvin and Nelly look-a-likes]. If one thought that the Mean Machine had tanked after two quarters, one ought should might word? drunk dammit think again, because, hell, they legged it out (???). Granted, I'm unfamiliar with the clock mechanics of not-so-professional-in-fact-not-professional-at-all-it's-just-prison-league-games-and-who-really-cares-about-the-rules-of-clock-management-much-less-whether-a-football-play-can-extend-beyond-the-clock's-expiration protocols, but it was massively hilariously ridiculously awesomely valiantly hugely optimally holy fucking shit like seriously is this game even real or are we on candid camera very exciting to see Burt Reynolds play football today. I honestly had no idea Reynolds was serving a life sentence in a federal prison for quadruple homicide and threats on Ronald Reagan's life—much less that he was alive—but, Jesus Christ, it was great to see him lead the Mean Machine to victory. Way to go, Burt, you get the MMQBMVP. Enjoy it in prison, buddy.
I hope the Mean Machine celebrates this win responsibly and respectfully in the solitude of their Spartan, federal prison cells. Good job, boys.