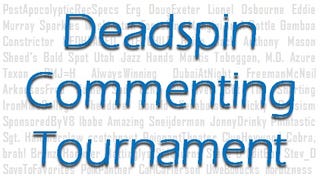 It's the late night wars, twelve hours too early. Who's your guy? (And Kimmel's not an option today.)
Please remember the ground rules. And don't recommend comments — leave a +1.
There should only be three comments to this post: the two contestants, and mine.
If you have any questions, jokes or editorial remarks, reply to my comment.
Vote for the best comment, regardless of how good (or bad) you think it is. Please make your vote a simple "+1".
Do not make efforts to "get out the vote" on Twitter or elsewhere.
CHANGED RULE: If you are playing, you can vote for yourself or you can vote for the other guy. Too many people are parsing the voter rolls to see who the participants might be. But I won't count the vote in the final tally in either case.
Do not tell others if or when you are participating in a game.
When in doubt, consult the rules.
If it's not against one of the rules, it's fair game. So feel free to make fun of the tournament, me, the burner names, Nick Denton or whomever or whatever on Twitter or in the replies to my comment.
Good luck!
This is more than a year old, and it's already bounced around the internet a little bit, but it was just brought to our attention. We're posting it because it's Jaromir Jagr. Dressed as a fire chief. Who gets tricked by some ladies. Ladies who wanna party with him. In a 20-second commercial for the Euro Milony lottery.
Jagr actually has been a silent Euro lottery pitchman for quite a while. He's also delivered pizza on a Vespa, played a super hero, dressed as Santa Claus, looked really pensive, and just rolled over in his sleep. He's such a natural. There's no look he can't pull off.