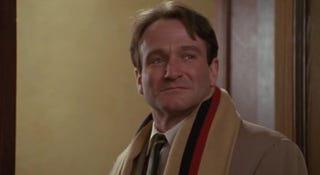 Yesterday the world received news of the passing of Robin Williams. There have been countless tributes, Facebook posts, and tweets regarding this. I would simply like to write a piece expressing why I'll miss him. I never met the man, but he impacted me since I was a child.
I was a hyper child. If ADD would have been diagnosed when I was a kid, then I for certain would've been labeled. I couldn't sit still, I was a ball of energy (creative and otherwise), but I was quick and smart. Ifirst saw him on Happy Days as Mork. He was a lovable "alien," but he was funny and human and he made me laugh over and over. I then saw Robin's first two stand-ups on HBO, way before I was mature enough to appreciate them, but I saw someone who was just like me! I could follow his frenetic and manic pacing. I could understand his mind, which seemed to move at 1000mph just like mine. Did I get every nuance? Did I get every innuendo? Did I understand every joke? Nope, but that didn't stop me from memorizing every single word of it, inflection, tone and all, and repeating it for my classmates at school. If you ran into one of my teachers today, I'm sure they'd laugh and say what a huge pain in the ass I was, but I could also then draw you a line directly to Robin Williams.
His film career was full of the same manic lines, just waving and weaving in and out of the theater. He was Popeye, he was an Air Force DJ Cronauer, he was The Genie, he was Peter fucking Pan! He was the holographic Dr. Know. He was Parry, the fractured man touched by tragedy. He was Dr. Maguire. He was Dr. Sayer. He was Dr. Adams. He was Jack Dundee, wanting to fix his screw up in a high school football game. He was all of these roles, and many many more.
I want to keep this short, and simply offer forth a thank you for everything that Robin Williams has done. I won't discuss depression, for it would be foolish of me to do so. I am not informed enough to speak intelligently on the subject, but all I hope is that if you're feeling as if all is bleak, don't be afraid to speak to someone. Anyone.
In closing, I would like to reference a character Robin played not previously mentioned. I'm an English teacher. I would be lying if I said I haven't secretly thought of all my students paying tribute to me as John Keating's did in Dead Poets Society. I think of Robin Williams each September when I greet my new students. I think of Robin Williams each June when I see them off. I think of Robin Williams when I hear from former students who are now in college, past college, finding careers, some becoming teachers themselves. I think of Robin Williams when my students thank me for how I influenced them.
I think of Robin Williams as John Keating, and I want to say what he said, "Boys, you must strive to find your own voice. Because the longer you wait to begin, the less likely you are to find it at all. Thoreau said, 'Most men lead lives of quiet desperation.' Don't be resigned to that. Break out!"
I will miss you, Robin Williams.