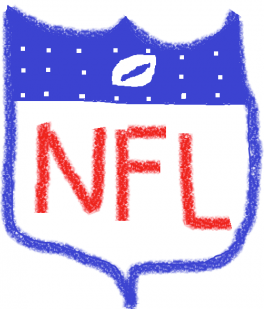 Here we are for a third time around. The Idiots Pool is back again, beginning the march to Idiot Bowl III, and the awarding of the esteemed Miserable Shitehawk Trophy.
We have a lot of new faces this year, so I'll go over the ground rules in this post.
The main League page is here, where I will have updated scores and standings throughout the season. High-fuckin-tech.

There are 34 players in the league, separated into two conferences: the BronzeHammer Memorial Conference and the SonarJose Memorial Conference. Each player plays a 16-game schedule, with one game against every other team in the conference, and one bye week.
Here are the conferences:
| | |
| --- | --- |
| BHMC | SJMC |
| @boring_as_heck | @AlwaysWinning1 |
| @DJ_Jeff_Weaver | @amharris26 |
| @DougExeter | @AnthraxJones |
| @DRobertsIMG | @BronzeHammer |
| @FendiHotdogbun | @CarlCarlerson |
| @meatstains | @CurtisWenis |
| @MikeBeauvais | @dankmtl |
| @MnMEnterprises | @fusilligary |
| @Mobute | @Girl_wonderX |
| @Moose_Bigelow | @GRUNGEBANJO |
| @PFTCommenter | @Hegelbon |
| @Rob__Sly | @Jay_Sanin |
| @SameSadEcho | @philsnantzyboy |
| @sirdiesel | @polkpanther |
| @TurdGuy | @SmittyMyBro |
| @Ugarles | @StuartScottsEye |
| @ZachHalverson | @UweBollocks |
We got a veritable murderers' row of good talent in the league this year, plus some other assholes.
How It Works
Every week on the League Page I will post a link to the PICKS page, which is a Google Form. This will go up Monday night or Tuesday morning before the following weekend's games. I will be sending out your PICKS PINs via Twitter DM in the next day or two.
Each player picks 10 winners, straight up, in each week that they are playing. With a few exceptions (set out below), the Thursday game is not eligible for PICKS, and the Monday night game must be picked. PICKS deadline is 5pm Eastern/2pm Pacific the Friday before the weekend. You will be reminded by me if your PICKS are not in.
The exceptions are:
Week 1 - Two Monday night games must both be picked
Week 12 - Thanksgiving Week; all Thursday Games must be picked (plus Monday as usual) - PICKS deadline will be the Wednesday night.
Week 17 - No Monday night game, so can pick any ten games
If you pick more winners in a week than your opponent (your team must win, individual game ties are worth nothing), you win and get two points in the standings. Pick the same, it's a tie, and you get one point. Top six teams from each conference make the playoffs, and the playoff structure is the same as the NFL's.
Any questions, slide into my DMs at @DougExeter.
And, as always,
PICKS