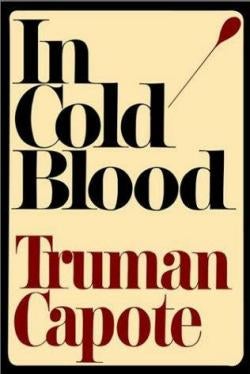 The first book in our new series examines In Cold Blood, by Truman Capote. A work of nonfiction, this novel was first published in 1966. It examines the 1959 murder of the Clutter family in Holcomb, KS.
In Cold Blood is considered the pioneering book in the genre of true crime. It is expertly told through Capote's voice, and his diction is on point throughout the novel. It follows the murder of Herb Clutter and his family, and the eventual arrest of two men, Dick Hickock and Perry Smith. Capote fervently interviewed the suspects as well as the locals to artfully create a tone of both down-home life and impending menace.
The book starts with one of the more stimulating introductory sentences in literature, which gives the reader a sense of the great expanse of both the Kansas terrain and the scope of the novel itself: The village of Holcomb stands on the high wheat plains of western Kansas, a lonesome area that other Kansans call "out there." This sentence sets both the mood and the tone of the book by directly stating the starkness of the setting.
Truman Capote traveled to Holcomb with his friend Harper Lee, and the two of them plunged the depths of the locals, interviewing the people as well as piecing the story line together as it unfolded in real time. Capote, already famous for writing Other Voices, Other Rooms and Breakfast at Tiffany's, reached new heights of both fame and infamy with the publication of In Cold Blood. Some felt his writing sensationalized a tragic event, while others outright accused him of fabricating some of the plot. However, this was never proven true.
I first read this book in a college class called "Writing Non-Fiction." Truth be told, I only picked it because of its title. I still reread the book at least once or twice a year. Capote's work remains as fresh and exciting as when I first read it. If you haven't read this, I recommend purchasing a copy today. You will be glad you did.