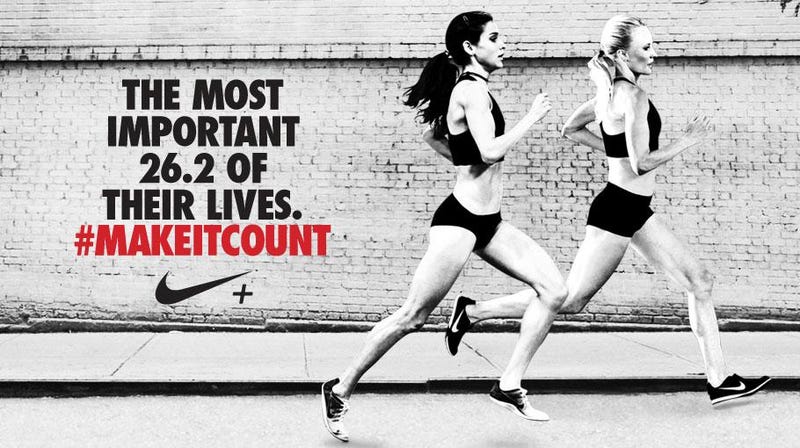 11:41 — No Goucher, but Flanagan is there, and she's part of a 5-woman pack who is gaining on Felix! Rita Jeptoo is there too, and I give her better than even odds to win at this point.
11:37 — I wish they'd show more of the women's chase pack — can't tell who's there. I thought I saw Kara Goucher, but they cut away too quickly. That chase pack needs to bust ass now, or they'll never catch Felix. Felix looks vulnerable — running well, but keeps looking back and the gap is shrinking.
11:34 — The kid leading the men's race (Chumba) was a gardner for Martin Lel (famous champion marathoner). My gardner could not run a 2:05 marathon.
11:31 — Not surprisingly, the men's race just busted wide open through the Newton Hills. Felix is holding on to a 90 second lead with only 20 minutes or so of racing left.
11:27 — The men's race is weird. The American and Canadian just rejoined the lead pack, so they must be surging and slowing. Felix keeps looking back, which sometimes is a bad sign.
11:21 — Flanagan is still in the chase pack, so if Felix bombs out, she'll be right there.
11:21 — The Kenyan men just took off and dropped the American/Canadian contingent. And Ana Dulce Felix is running as good as she sounds.
11:19 — The men are being very coy. They're letting a 2:13 Canadian — Canadian! — runner lead them, and Jason Hartmann is easily holding on to the lead group.
11:15 — Sorry — this feed is bad. Felix is now way ahead (as predicted, the other woman dropped way back), and the chase pack is nowhere in sight. The men are running very conservatively. Very.
11:03 — The online feed is really spotty. Ana Felix from Portugal has caught Caballero, making up 30 seconds in the last two miles.
10:57 — Uh oh. The women's chase pack is breaking up, and Kara Goucher looks like she may be an early casualty.
10:50 — She really looks like she's working. You shouldn't be working halfway though a 26 mile race. The announcers are acting like she's got a chance, but I don't give her much of a prayer.
10:46 — Halfway through the race, an unheralded woman (Caballero) is gapping the group (32 second lead). She's either going to win this race or finish outside the top 10.
10:36 — Kara Goucher looks good. And she's running well!
10:26 — 9 miles in to the women's race, and Shalane Flanagan has been spotted in the main chase group — I think I see Kara there as well.
10:19 — A small group of men – including the top two Americans – have decided to stay out front and keep the pace. That usually never works for the pacesetters.
10:16 — Reason #453 That We're Not Watching the Tampa Marathon: The "real feel" temp is 94 degrees right now.
10:11 — Larry Rawson just misstated the qualifying standards. Love you, Larry.
10:02 — Men are off.
9:52 — Miles 3 through 13 tend not to be too interesting (pack still too close together). There are four people way out front, and none of them has a chance in hell of winning. Hence, the shots of the wheelchair athletes and the skyline.
9:45 — A couple random Asian elites out front. They look like they're pushing the pace, but the rest of the pack is just running slowly (over 6:00/mile pace early on).
9:40 — Larry Rawson is part of the online commentary. If you enjoy listening to your crazy grandfather's stories, you will enjoy his color work. One of his favorite things to do is to put marathoning in terms that the average person will understand (i.e., to say incredibly obvious things). So if you'd like to know what it's like to run 5:00 miles, he'll suggest that you go to a track and run a 5:00 mile.
9:33 — And the elite women are off. Downhill at the start, so expect a big pack for a few miles.