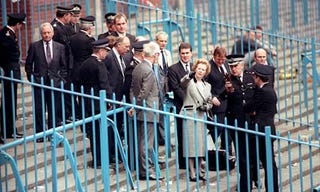 Earlier today, once reports of Margaret Thatcher's death had been made official, EPL side Manchester United announced that they would not be honouring the former PM with a minute's silence prior to their match against rivals Manchester City at Old Trafford.
At first glance, and without little knowledge of her impact on football in England, this decision may strike some as the wrong way to commemorate the death of a former Prime Minister. However, looking deeper into her influence on the English game and the widespread changes that occurred during the 1980's and early 90's, it's easy to see why ardent supporters of the game don't hold her in the highest regard.
During the 1980's, English football was a sport on the verge of a massive change for the better. Unfortunately, much of this change was brought about by disasters in football grounds both home and abroad that would shape the way the sport was perceived by the masses.
1985 Bradford, England: During a league match against Lincoln City before a record number of supporters in attendance, a fire in the all-wooden stands of Valley Parade Grounds killed 56, reportedly injuring another 256. A small fire was started just prior to kick-off, only to quickly escalate and engulf an entire section of wooden stands, confirming many people's worries that most of England's grounds, like Valley Parade, were simply too old to be a functional stadia for thousands of supporters each weekend. This disaster was a major short-term cause for the elimination of wooden seating and standing areas in English football grounds.
1985 Heysel, Belgium: Thirty-nine Italian Juventus supporters are killed and 600 are injured as hoards of Liverpool supporters circumvented a fence used to separate the fans and a neutral area. Many bianconeri supporters were crushed against a retaining wall, before it eventually collapsed, killing many more. Despite the incident, the European Cup Final was eventually played that day to prevent further disaster, with English clubs eventually being banned from all continental competitions until lifted in 1990-91.
1989 Hillsborough Disaster, Sheffield, England: As with other FA Cup Semi-finals, this one was played at a neutral ground in Sheffield pitting Liverpool against Nottingham Forest. 96 Liverpool supporters were killed, with another 766 others injured as the end allocated to Reds supporters at Hillsborough, Leppings Lane, experienced a massive swell of people and overcrowding that led to the crushing deaths of nearly a hundred people. During this time, standing-room-only sections were common place in football grounds, and the situation was worsened when on-duty Chief Superintendent Duckenfield ordered an exit gate opened to help deal with the swell of Liverpool supporters attempting to enter the antiquated ground using but a few turnstiles. The influx of fans caused those situated towards the pitch to be crushed, as moments after kick-off, a barrier fence gave way and Liverpool supporters were crushed as momentum carried them forward. The game was immediately called-off, as ambulances and police struggled to treat those injured, with fellow supporters tearing down advert placards to be used as spinal boards to treat the injured. Hysteria ensued, and it wasn't until September, 2012, that the Hillsborough Report properly identified that the police were responsible for the disaster.
Initially, Margaret Thatcher and other members of her Conservative cohort were quick to blame Liverpool supporters for the Hillsborough disaster, tarnishing those lives lost that fateful day in April, 1989. During her 11 years at the helm, Thatcher considered football a working-class game, littered with alcoholism and hooliganism that went to great lengths to explain the aforementioned disasters. It wasn't the fault of the police that day in Sheffield, but of the hoards of over-hydrated and unruly Liverpool supporters who had no concept of social etiquette or how to comport one's self at a sporting event. This is what Thatcher believed, and what she wanted others to believe as well.
While it quickly became evident, especially post-Bradford City fire, that stadiums across England were not up-to-snuff, Thatcher liked to focus on the hooligan aspect, even going so far as to have fellow Conservative MP, and Luton Town FC chairman, David Evans conceive a plan to have all football fans carry ID with them to football grounds, and to lay the plans to have away supporters banned from attending matches. Because of this, Luton Town quickly became England's least favourite club, and supporters of the game began to speak-out against Thatcher's archaic designs for change. The Football Supporters Act of 1989 made ID's compulsory, but the plan was later scrapped following the Hillsborough incident.
The disasters at Bradford and Hillsborough pointed to an immediate need for change, and shortly there after, football grounds were to eliminate pitch-side fencing, and standing-room-only sections were banned because of the potential for further deaths. All football grounds in England's professional ranks were forced to adapt, and as a positive of sorts, this modernization led to the eventual formation of the Premier League in 1992.
As Thatcher's Conservative government continued to attack football supporters in England and lay blame on them for many an issue in the game, unity amongst fan bases grew and the Football Supporters Association (FSA) was formed to defend supporters and clubs from much of the slander at the hands of the government and major media outlets. Because of this, club culture grew, more supporters clubs were formed and groups began publishing their own media to show their people in a different light.
During this time, Thatcher eliminated extra funding for school sports programs and stopped paying teachers to coach extra-curricular activities. This decision was a long-term catalyst in taking England from one of the world's football powers, to a modern day also-ran.
Margaret Thatcher, during her 11-years in office, never thought highly of English football and its supporters. What she failed to see was that with the incoming TV deal in the early 90's, that the game would become one of the nation's biggest assets and moneymakers, inviting investment from around the world and creating revenue through television contracts that is incomparable to any other professional sport worldwide. What she considered a sport littered with violence and hooliganism, would soon become a cash cow unlike any other during her reign of raping and pillaging the English people for the sakes of privatization.
cobra, brah! can be found on twitter @mj_chandler