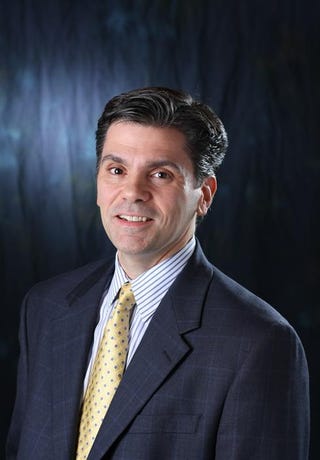 If you stuck around after last night's orgiastic turnover battle to see what human cocktail napkin Mike Florio had to say about the day's developments, then you probably caught something very peculiar..
Florio, as chief water carrier of the NFL and Goodell and, hell, probably Goodell's kids and the kids' stuffed animals and shit, was nonetheless obligated to ruminate on the rusty performance of the NFL's officials on opening weekend. In the most prominent example, a simple mischaracterization of a sideline scuffle was compounded by an error in setting the down and distance. Rather than relating that to a similar incident in the Titans-Steelers game earlier in the day, because everything has to have an angle, Mike made an odd assertion — that had this happened a year ago, we'd be complaining about the replacement refs' incompetence instead of the regular (read: union) officials'!
Because of Florio's unabashed status as a bought-and-sold "NFL analyst" (Days Without A Stupid Seinfeld Reference: 0), we know this is an official NFL position. Goodell is crafty - with 7 years left on an 8 year agreement with the NFLRA, he's already laying the groundwork for the next strike, one that he very much envisions himself being a part of. Instead of air-dropping pamphlets, though, he's throwing a 4'9" turd into the punch bowl. "Remember," Florio implies, "these guys aren't that good." We're meant to wonder whether the replacement officials were really that bad, but instead it's clear that Goodell and Florio actually are.