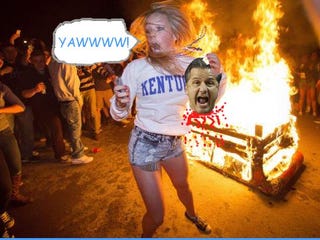 That image tells it all. Tonight Duke will play the Badgers for the semi-professional national championship.
Poignant Theater remains in the lead with 132 points. If Duke wins, he is your new overlord, despite not picking the championship game correctly. On the other hand, if the Badgers win, HiLo Silver takes home the trophy.
If any of you idiots in the current top 10 had picked Duke to win it all and they did, you would have ended up top dog.
At the shallow end of the pool, the bottom three is already determined. Congrats to Mangini in a bottle for just staying ahead of YnsYuniEday. Cobra, brah! will finish, predictably, in last place.

Standings
Final Four Picks