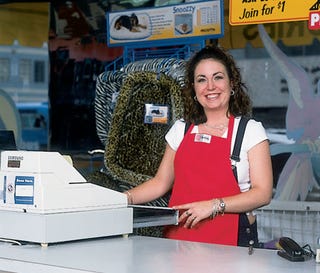 "...sure looks like you've got some fun on your hands."
[continues scanning items, in a decidedly-unhurried cheerful manner]
"Well you know these things happen sometimes I guess right or else you wouldn't be here, huh?"
[scans proffered driver's license]
"Gonna use that to clean up, too?"
[rips receipt off of printer, humming tunelessly]
"Receipt in the bag okay?"
"Okay, well, enjoy the rest of your afternoon!"
Listen. Lianne. Really? "Lianne?" Is that like "Lee Ann," or "Lie Ann?" "Lee Onny?" I don't mean to be rude here. I do want to make sure I'm getting your name correct. It's just, I know for a fact that there is nothing, nothing, that you have just placed into these bags that could possibly make you think I'm going to enjoy the rest of my evening. Oh, sure, I see how you could think that maybe this 6-pack of a moderately priced craft beer might offer some small glimmer of hope for pleasure on what appears to be an excellent afternoon for perhaps grilling and enjoying the outdoors, but let me tell you something, Lianne, one does not purchase this in combination with Resolve Spot Treatment "3x Oxi Power!" and Clorox wipes and Arm and Hammer Pet Odor Vacuum Fresh Powder and go and do some grilling, NO, NO YOU DO NOT. You see, Lianne, I have to go home, and pop one of these beers open, and sigh real heavily, and then pop one open for my wife, and she's going to groan in this real guttural fashion as she takes a swig and then slams it down on the kitchen table, because the kitchen is the only safe spot in the house right now, devoid as it is of any carpeting or ruggery, and even though naturally this laminate flooring would be the easiest surface to clean up...
Look, Lianne, what I'm getting at is that I'm sure you meant no offense by your parting words - Lianne, I know I'm in my car now and you can't hear me because I've been muttering to myself the whole time, okay - but we can be real with each other here, okay? I'm not going to enjoy my afternoon, at least not in the immediate future. Because the thing is, Lianne, our dog pretty much shat all over the house. That is what I have to look forward to when I pull into the driveway and turn off the car.
Approximately 24 hours ago...
My dog: oh wow i need to poop i should probably let the people know
wait where are the people
okay it's fine i'm sure they'll be back shortly
they're not back
okay i really really need to go
but i can't go outside
hang on there's that huge rug downstairs that's really flat and open and kind of like grass let me just go squat and waddle there i'm sure they'll understand
[lays out approximately 6 toddler-fist-sized turds]
oh jeez i think i did a bad thing
[hours later]
okay they're still not back maybe i'll go wait by the door oh wow i'm peeing?
[more hours later]
so maybe if i poop someplace else they won't notice the first poops i bet the top of the stairs should be okay
oops i stepped in one i think i'll go lay down and try my very very hardest to not look guilty and maybe it'll all be just fine i totally did a bad thing i am a bad dog don't acknowledge them when they walk in don't do it i think there's still poop on my leg