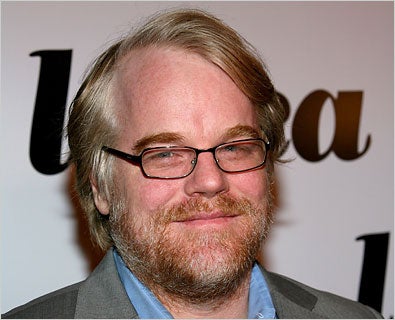 According to police in New York City, actor Philip Seymour Hoffman died today at the age of 46. While there are reports of how he died, until full autopsy results are determined, I won't speculate. What is undeniable fact is that the world lost a great actor. I called him an immersion actor, as he seemed to dive deeply into each role, regardless of how large or small. He inhabited his characters, and gave each a defining quality. He was the the delightfully anal-retentive Brandt in The Big Lebowski. He was a shining light as Phil Parma in an otherwise unwatchable Magnolia. He was uncomfortable as a Nabokov-like teacher in 25th Hour. However, I feel his best roles are these that I've listed. Mind you, this is purely opinion, so if you'd like to share your favorites and why in the comments, please do so.
5. Jon Savage - The Savages. Hoffman plays a son taking care of his dying father and attempts reconciliation with both his sister and their father as well.
4. Lester Bangs - Almost Famous. Here Hoffman plays insanely influential rock critic and writer Lester Bangs in Cameron Crowe's paean to his love of the 1970s tour scene.
3. Father Brendan Flynn - Doubt. Hoffman portrays a priest accused of molestation in this incredibly harrowing 2008 film. You are never really sure how to feel about his character in this film, and that's a testament to Hoffman's talent.
2. Scotty - Boogie Nights. The role of the smarmy, leering, hanger-on of Scotty in Paul Thomas Anderson's 1997 classic is where I really took notice in Hoffman. I found his character both lecherously appalling as well as sad. This role is a stand-out as far as I'm concerned.
1. Truman Capote - Capote. Philip Seymour Hoffman was Truman Capote in this film. He adopted Capote's mannerisms, his speech, his aura, his aloofness, his self-importance, his fears, his reluctance, his pride, and everything else Capote was known for. Hoffman deservedly won the Best Actor Oscar for this role. If you haven't watched the film, do it soon.
Philip Seymour Hoffman was a very talented actor. He will be missed.