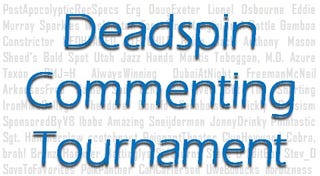 Today's contest features NBA legends MagicJohnson and LarryBird. Please remember the ground rules:
There should only be three comments to this post: the two contestants, and mine.
If you have any questions, jokes or editorial remarks, reply to my comment.
Vote for the best comment, regardless of how good (or bad) you think it is. Please make your vote a simple "+1".
Do not make efforts to "get out the vote" on Twitter or elsewhere.
Do not vote for yourself.
Do not tell others if or when you are participating in a game.
When in doubt, consult the rules.
If it's not against one of the rules, it's fair game. So feel free to make fun of the tournament, me, the burner names, Nick Denton or whomever or whatever on Twitter or in the replies to my comment.
Have fun!
We alerted you to the wackiness that wasgoing on in the White Sox-Mariners gamelast night, but we feel it's necessary to mention it again today, because it really was one of the craziest games history. How crazy was it? Let's count the ways:
The 16-inning game ended in a 7-5 White Sox victory, but was scoreless through the first 13 innings.
The White Sox exploded for 5 runs in the top of the 14th, only to watch the Mariners tie up the game with five runs of their own in the bottom half of the inning, thanks in large part to Kyle Seager's grand slam.
It was the first game in history in which both teams ended up scoring five or more runs in a game that had been scoreless through the first nine innings.
Kyle Seager's grand slam in the 14th inning was the first game-tying, extra-innings grand slam in history.
The five-hour, 42-minute game was the longest home game in Mariners history, and White Sox manager Robin Ventura actually had to leave the game early so he could catch a flight to his daughter's high school graduation.
The two teams combined for 12 extra-innings runs, tying the AL record for most runs scored in extras.
The two teams accounted for more runs, hits, strikeouts, and pitches in the seven extra innings than they did in the first nine.
The winning pitcher, Addison Reed, pitched three innings and surrendered five runs.
Now go on and enjoy Hawk Harrelson's call of the final out. I don't think the man has ever sounded so relieved.
Thanks to ESPN's David Schoenfield for the stats