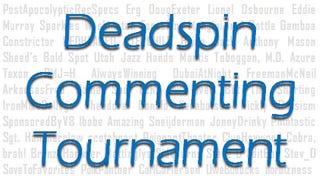 Today's contest features the 1980s double play combo of AlanTrammell and LouWhitaker. Enjoy the softball, fellas.
Please remember the ground rules:
There should only be three comments to this post: the two contestants, and mine.
If you have any questions, jokes or editorial remarks, reply to my comment.
Vote for the best comment, regardless of how good (or bad) you think it is. Please make your vote a simple "+1".
Do not make efforts to "get out the vote" on Twitter or elsewhere.
Do not vote for yourself.
Do not tell others if or when you are participating in a game.
When in doubt, consult the rules.
If it's not against one of the rules, it's fair game. So feel free to make fun of the tournament, me, the burner names, Nick Denton or whomever or whatever on Twitter or in the replies to my comment.
Today is the last day of school down here, and as a result I have no plans to think about this past 3 PM. So let's assume that the votes will be counted before then. Vote, dammit!
Big Papi homered off Michael Kirkman in the bottom of the ninth. It was his 11th career walk-off home run, and first in four years, and it kept the Sawx 1.5 games ahead in ... ah, who cares? Check out his T-shirt!
h/t to Jason S. and Kyle S.