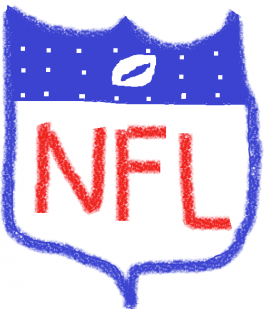 Poor show by a few of you getting your picks in this week. PROTIP: if you're going to wait until the last goddamn minute, then spell-check your picks and send me the damn Monday night game as one of them.
Anyway, I'm really not looking forward to the early deadline I've imposed for Week 13 - the preview post will be up at 5pm Eastern.
This week should be more interesting(?) than most, because there is a new emergency Monday night game that 19 of you have picked, and we have a 21-11 split on the actual Monday nighter, so there could be a lot left to decide by Monday.
Here are the matchups:
| | | |
| --- | --- | --- |
| * | BHMC | * |
| BatmansRobyn | COMMON PICKS | Rubdirtinittakealap |
| BUF CHI SEA DAL | IND GB NE PHI SF NO | ATL DEN CIN STL |
| * | * | * |
| Bring Back Anthony Mason | COMMON PICKS | rhythm method |
| SD | PHI NE GB IND CHI SEA DEN SF NO | BUF |
| * | * | * |
| Capt. Gladys Stoatpamphlet | COMMON PICKS | Pleatherface |
| BUF GB PHI DAL BAL | CHI IND NE DEN SF | ATL CIN SD ARI NO |
| * | * | * |
| DougExeter | COMMON PICKS | Peabo Bryson |
| BUF CIN SD SF NO | IND GB NE PHI DAL | CHI STL ARI DEN BAL |
| * | * | * |
| Evil Roy Slade | COMMON PICKS | Milo Minderbinder |
| SD ARI BAL | IND GB NE PHI CIN DEN SF | NYJ SEA NO |
| * | * | * |
| FreemanMcNeil | COMMON PICKS | marmol heater |
| BUF DAL BAL | CHI IND GB NE PHI DEN SF | CLE NO SD |
| * | * | * |
| StuartScottsEye | COMMON PICKS | SponsoredByV8 |
| JAX | BUF CHI GB NE PHI SEA DEN SF NO | IND |
| * | * | * |
| Telemundo | COMMON PICKS | Same Sad Echo |
| HOU SD BAL | BUF CHI IND NE PHI DEN SF | GB DAL NO |
| * | * | * |
| | | |
| --- | --- | --- |
| Aaron G | COMMON PICKS | Mangini in a Bottle |
| NE CHI SEA DEN NO | PHI GB IND SD SF | BUF CIN ARI DAL BAL |
| * | * | * |
| AnthonyMasonsBarber | COMMON PICKS | JacquesLeftFeet |
| ATL DAL NO | BUF CHI IND GB PHI DEN SF | NE SD BAL |
| * | * | * |
| BlackGallagher | COMMON PICKS | ItlnStln |
| CHI GB SD | ATL IND PHI DEN SF DAL BAL | SEA NE BUF |
| * | * | * |
| cobra, brah | COMMON PICKS | Girlwonder |
| NYG SEA GB | NO SF DEN SD PHI NE IND | CHI HOU DAL |
| * | * | * |
| Cyrus the Virus | COMMON PICKS | Erg |
| CIN DAL BAL | BUF NE SF DEN PHI IND GB | CHI SD NO |
| * | * | * |
| DingoDen | COMMON PICKS | Drifter |
| NO BUF SD | IND PHI NE GB DEN SF DAL | ATL CIN BAL |
| * | * | * |
| The Amazing Sneijderman | COMMON PICKS | PostApocalypticRecSpecs |
| CHI NE SD | IND GB PHI HOU DEN SF NO | ATL NYJ ARI |
| * | * | * |
| ZachHalverson | COMMON PICKS | Mr. Rodgers Neighborhood |
| CLE BUF CHI IND | NE PHI DEN SF DAL NO | GB SD SEA HOU |
| * | * | * |
And your pick numbers:
| | | | |
| --- | --- | --- | --- |
| CLE | 2 | ATL | 7 |
| NYJ | 2 | BUF | 17 |
| TB | 0 | CHI | 20 |
| JAX | 1 | IND | 30 |
| GB | 27 | MIN | 0 |
| DET | 0 | NE | 28 |
| TEN | 0 | PHI | 31 |
| CIN | 8 | HOU | 5 |
| STL | 2 | SD | 16 |
| ARI | 5 | SEA | 10 |
| MIA | 0 | DEN | 29 |
| WAS | 0 | SF | 31 |
| DAL | 16 | NYG | 1 |
| BAL | 11 | NO | 21 |