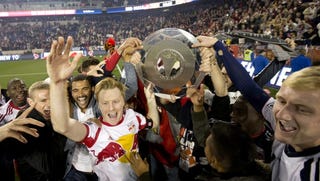 Yesterday was a long time coming, and not in the way that people use that phrase to express inevitability. For 18 years, the New York/New Jersey Metrostars/New York Red Bulls have been the joke of the league. An original member of MLS, the most trophy-like thing they've won is a 2011 Emirates Cup title, a made-up friendly tournament during European pre-season (though they did beat PSG and drew Arsenal). All the while their direct rival DC United has won the league 4 times, and the US Open Cup another 3.
I read the main site's article from yesterday noting that the Red Bulls had finally won a trophy: the 2013 Supporters Shield, given to the team with the best record in the regular season. But I felt there was some room to expand on some of the ideas in the article, most notably on what it means for the team and its fans to finally have some success.
This is a team that, historically, has seemed as interested in MLS as a struggling insomniac is in a Red Bull. The Red Bulls have always had a penchant for trying to force disparate, often foreign parts into a distinctly American league. The most disastrous of these moves was Rafa Marquez, a player most commonly referred to with an explicit epithet between his first and last name. Marquez came over from vaunted Barcelona in 2010, but only made 44 appearances over three years with the Red Bulls, scoring one goal. He is probably most remembered for his numerous red cards and for throwing young defender Tim Ream under the 18-wheeler bus.
Their managerial history is as impressive. There are European teams in top leagues that would envy some of the team's skippers. They had Carlos Queiroz in 1996, who went on to manage at Manchester United and Real Madrid. Juan Carlos Osorio, from 2007-2009, later coached Puebla in the Mexican League. They had Bora Milutinovic, Bruce Arena, and Bob Bradley, all one-time coaches of the US National Team. And yet the team never won a single piece of silverware.
This off-season started similarly to any other Red Bulls offseason, to be honest. The team crashed out of the playoffs last year when a converted penalty was called back for encroachment, and the subsequent attempt was missed. And against DC United, of all teams. A perfect encapsulation of the team's history. Manager Hans Backe was unceremoniously dumped, creating speculation as to the next skipper. Backe was a Swede, and it was widely thought that the next manager would also be a European with a pedigree.
The first choice was Gary McAllister, a former interim manager at Aston Villa in the Premier League. It didn't work out. Their next target was the Portuguese manager Paulo Sousa, also with connections to England on his resume. It was a classic Red Bulls move; look for the experienced European manager who could bring some respectability and proper "footballing" to the US. For some reason, though, this move also fell through. The team entered the MLS Draft in January without a head coach. That is classic Red Bulls, thought everyone with a pulse.
And then they (re)-found Mike Petke. Petke is Long Island born and bred, and holds the Red Bulls team record for most appearances, when he was a bleached-blonde defender with a mean streak. Having been overlooked for the Red Bulls' manager position earlier in the year, Petke was resigned to his assistant coach role and was considered a complete afterthought. But without a European coach to take over, the team decided to hand Petke the reins.
But the manager wasn't the only thing that changed for the Red Bulls. In stark contrast to prior years where European players were targeted almost exclusively for role positions (Teemu Tainio, Jan Gunnar Solli, John Rooney, etc), the 2013 Red Bulls looked within MLS for depth. The team brought in beastly defender Jamison Olave and shifty striker Fabian Espindola, both MLS veterans, from Real Salt Lake. They picked up unheralded midfielder Eric Alexander from Portland, and suggestively-monikered Jonny Steele from RSL.
These players all made immediate impacts. Olave, when healthy, may be the best defender in the league. Espindola, who started the year on fire before finding himself on the bench, scored nine goals. Alexander has appeared in all 34 games for the team this year after playing in 30 combined in two years in Portland, and Steele has provided some much-needed midfield intensity and muscle. These guys all know MLS; they know how physical the league is and what it requires to play at a high level every week.
And these players, coupled with lanky Swedish-chef-resembling defender Markus Holgersson and pint-sized ginger midfielder Dax McCarty, would make a solid mid-table MLS team. But the Red Bulls, by virtue of their ownership and geography, have always had money to throw around. They've just usually spent it in all the wrong places.
This season, the Red Bulls concentrated their money around two stars: Thierry Henry and Tim Cahill, their designated players. Say what you want about Henry's attitude, and many have, but the man can flat-out ball. Check out his goal from the game against Chicago this past weekend. Or this one against Philadelphia. What's most impressive about both is how clearly intentional it is. He's not hoping the ball will deflect in a certain direction. He knows exactly where the ball is going when he touches it. His body control is unbelievable. For my money, he's the best player to ever play in MLS based on his play the last few years, and not just on his legacy.
The Red Bulls have had Henry for two years already, though, and haven't won anything. What changed this year was the introduction of Cahill, a former Everton player who joined the Red Bulls last summer. Cahill's reputation preceded him; he's known as a tenacious midfielder with an unbelievable ability to head the ball despite his 5'10" frame. He's proved to be the emotional inspiration for the team that Henry can't – and doesn't want to – provide.
It's this combination of factors that led the Red Bulls to their first trophy ever. It's the coach, it's the role players, it's the big money stars, it's the big-time contributions of overlooked players like goal-keeper Luis Robles, who became a real estate agent to supplement his uncertain status in 2012 as Red Bulls goalie.
Of course, the season isn't yet over. In addition to crowning a regular season champion, MLS has a playoffs system. As Red Bulls fans know, the team chronically underperforms in the playoffs. But for now, this one trophy is enough to savor. For a team that seems to turnover its entire lineup every year, it's time to look back and appreciate the long view.
But when they look forward into their crystal balls, Red Bulls management should be downright terrified. In 2015, New York City FC starts play, most likely right outside Yankee Stadium in the Bronx. That's a whole hell of a lot easier to get to than Harrison, NJ for people who live in New York (not to mention having to use a different Metrocard on the PATH if you have a monthly, but I digress). New York City already has as much or more money than the Red Bulls, by virtue of their oil-rich ownership, which also controls Manchester City. NYCFC will come in with all guns blazing, intending to poach as many fans as possible from the Red Bulls' already precarious support in New York. With NYCFC will come big names and a flashy marketing campaign, if their early press releases are any indication.
Oh, and this Henry guy's contract is up after 2014, and he's not re-signing. Before 2015, the Red Bulls lose their best, most marketable player and their monopoly on soccer in the populated and wealthy New York area. The signs don't look great for the team in three years.
Which is exactly why this year may mean so much to Red Bulls supporters. There's a sense that this team has the right combination of star power and depth, of a creative manager and a management team that gets this league. But the window is closing. And as many long-time Metrostars and Red Bulls fans can tell you, the team will do almost anything to disappoint you in the most abjectly depressing way possible.
But these aren't your normal Red Bulls. Your normal Red Bulls have never won a trophy.
* * *
To see my heart break in real time this playoffs season, here's Twitter.