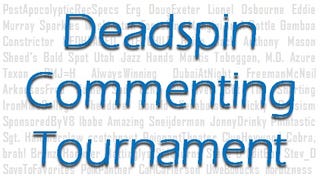 Is it the summer before my senior year of high school? It isn't, you say? Then why are we sitting here debating whether PearlJam or Nirvana is better?
As always, please remember the ground rules:
There should only be three comments to this post: the two contestants, and mine.
If you have any questions, jokes or editorial remarks, reply to my comment.
Vote for the best comment, regardless of how good (or bad) you think it is. Please make your vote a simple "+1".
Do not make efforts to "get out the vote" on Twitter or elsewhere.
Do not vote for yourself.
Do not tell others if or when you are participating in a game.
When in doubt, consult the rules.
If it's not against one of the rules, it's fair game. So feel free to make fun of the tournament, me, the burner names, Nick Denton or whomever or whatever on Twitter or in the replies to my comment.
Have fun!
We've gone over this before, but there's no sport that can match baseball for pure draft nepotism.
Some of them are legit prospects: Colin Moran, J.P Crawford, and Hunter Harvey went in the first round. But most won't amount to anything, despite their superior baseball genetics. It's still understandable: the PR of taking a legend's son, or even a great-grandnephew more than outweighs the value available the 35th round. Now that the 2013 draft is in the books, let's run down the bloodlines.
Sons and grandsons:
Craig Biggio's son
Roger Clemens's son
Andy Pettitte's son
Torii Hunter's son
Bucky Dent's son
Clay Bellinger's son
Edwin Diaz's son
Ned Eades's son
Mike Benjamin's son
Bryan Harvey's son
Paul Quantrill's son
Calvin Schiraldi's son
Kirt Manwaring's son
Jamie Moyer's son
Scott Nielsen's son
Lee Mazzilli's son
Tim Wallach's son
Walt Weiss's son
John Farrell's son
Tim Unroe's son
Ed Williams's son
Frank Wren's son
Mark Leiter's son (and Al Leiter's nephew)
Vance Law's son (and Vern Law's grandson)
Lee May's grandson
Carl Yastrzemski's grandson
Brothers:
Jason Heyward's brother
Justin Verlander's brother
Rex Brothers's brother
Kyle Seager's brother
A.J. Griffin's brother
Nolan Arenado's brother
Other:
Carl Crawford's cousin
Brad Lidge's cousin
B.J. Surhoff's nephew
Paul O'Neill's nephew
Gary Sheffield's nephew
Robin Yount's nephew
Chris Speier's nephew
"Shoeless" Joe Jackson's great-grandnephew
Undrafted:
Manny Ramirez's son
Kurt Bevacqua's son
Rafael Palmeiro's son
Pat Borders's son
Jay Buhner's son
John Cangelosi's son
John Franco's son
Bob Geren's son
Frank Wren's other son
Harmon Killebrew's grandson
Willie Stargell's grandson
Alex Rodriguez's nephew
Dan Plesac's nephew
Ruben Amaro's nephew