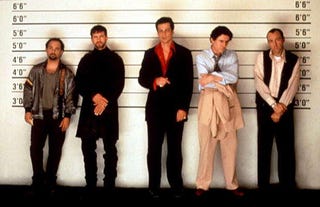 Favorites and duds from today's commenting:
It's a bare-bones roundup today, guys and gals. Off we go:
Favorites, in no particular order:
This is a very simple and easy one-liner from Captain Gladys Stoatpamphlet in the Naked Seahawks Fan post. It would be easy to try to do too much with this setup, but three words is really all you need. Nice one.
Some quality misdirection from fan (and also comment adjudicator, at least for today) favorite Iron Mike Gallego in the Truther post. Did I read any of the replies? You can bet I didn't.
Burner Cut-To-Cure channeling some darinh syntax with this silly wordplay joke in the Puppy Bowl post. It was stupid, yes, but I laughed.
I'm a sucker for potshots at Chipper Jones, so this little back-and-forth from Milo Minderbinder in the Lawyer Commercial post elicited a snicker from me.
I liked this (maybe not so) absurd continuation joke from A Pimp Named DaveR in the Homophobic Radio Host post. Three emails is the right number of emails to have here to be funny without going overboard. Nicely done.
This absurd dialogue from The Amazing Sneijderman in the Arrested Protestor post was too much for me. A talking bus stop? That's crazy, man. This tickled me juuuuuuust enough to be Comment of the Day.
Maybe it's just because it's from a burner that it got so little attention, but I thought this joke from GatticusFinch in the Olympic Mask post was great. "Sweet ass panel vans" is a very funny and evocative punchline. Stick around, friend.
Total Fucking Duds
Fuck this all to hell with a fucking steel I-beam.
Wow, I've never need anyone so unaware of their own projectionism as this nonsense from some idiot burner.
For fuck's sake, Hit Bull Win Steak, this is bad and gross. 166 recs at press time. Fuck that.
What exactly were you doing here, dope? There is a place for this kind of stuff, particularly where well-executed. It ain't the Deadspin comments. Here's what you do with this: you use it as the starting point for a story, make up an ending that's funny, call it a true story, and post it on Sidespin. As it is, it's a dud, though.
***
Sorry for the late post again, guys. Kinja and/or my internet connection were conspiring against me tonight, plus it was a slow day overall in comment land. As always, point out any omissions in the discussion below.