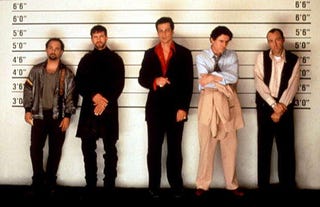 Welcome to the weekly, once-a-week, Monday-only Roundup, which happens once a week every Monday on a weekly basis here on Sidespin. Since it's Monday, let's begin:
Favorites, in no particular order:
Raysism was first to the punch with this easy one-liner in the Pistorius Vomit post. A few others tried this same punchline, but they didn't have a leg to st- [gets shot through a bathroom door]
Also in the same post, EditBay made me laugh with this bit of absurdity. I don't know if it was the lack of punctuation, or just the general weirdness of the line, but I thought this was great.
This was really gross, but also funny, from SaveToFavorites, in the Grappling Fart post. Man, that's disgusting. I love it. Later, he uses deft wordplay to maximum advantage in the 315-Pound Prospect Post.
Our Comment of the Day comes courtesy of a quick little screenplay/wordplay joke by DougExeter in the same post. You can see where this is going from the setup line, but the punchline uses a perfect economy of words to get the job done and draw the laugh out of you. Nicely done.
Madoffs Mets with a simple dig at the Astros in the 315-Pound Prospect post. Easy and funny.
This was very good, by Carrie Hunt and the Spoonerisms in the NBA Fighting post. Screenplay and dialogue jokes have largely fallen by the wayside in recent months, which is too bad, because they provide a great way to deliver an obscured punchline that maximizes the effect of the joke, which is what we see here.
Total Fucking Duds
To hell with duds. It's Monday, after all.
***
Shit show goes in the comments.