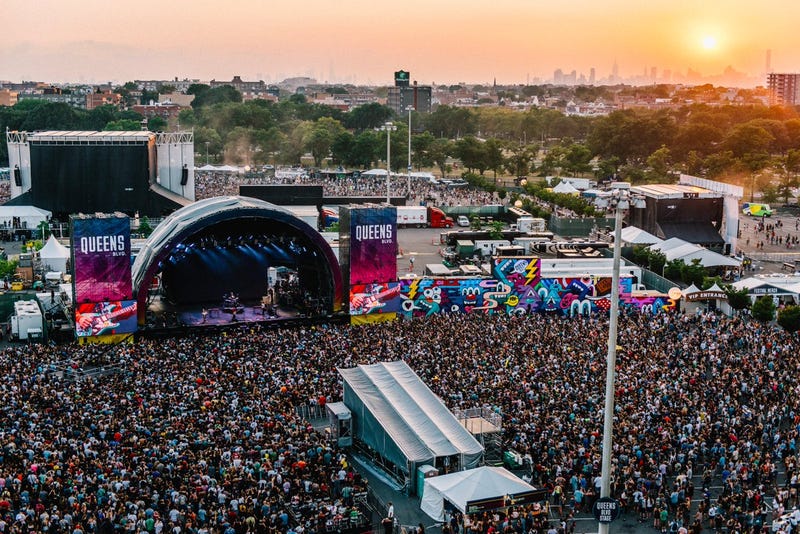 If you're not locked into your concert itinerary or need a few additions, perchance allow me to make some suggestions from a recent weekend jaunt:

DNQ(1): Big Boi, LL Cool J, Erykah Badu, Gorillaz, Joey Bada$$, RHCP

1. Future
There's exactly two kinds of respectable hip hop shows. There's sets where (usually) veteran performers go out as commensurate professionals - they hit every note, rhyme every bar, pander to the crowd all on their own, hell, would spin their own turntables if given the chance. The other end of the spectrum is about the spectacle, like "Ante Up" in concert form – think, minimum 25 people on stage, minimum 3 hype men, all mics at 11, all bars rhymed at 12, the more jumping and/or running the better. Future – for all his imperfections as an artist – delivered the best of both. Having the energy to hype up a crowd jumping all over the stage then still hit your notes is nothing short of amazing. The only other guy I can say that about is Chance – not Kanye, not Jay Z, or Common, or Nas, or Lupe, or anyone else on this list, or anyone else I've ever seen. Chance and Future. He brought out Nicki Minaj for a hometown verse and then Young Thug for a few joints after that (including "Lifestyle," which, see commentary) but it was just icing on the cake. The Meadows stage belonged to Future this weekend.

2. Blood Orange
More on Blood Orange in a later article. Sorry.

3. Jay Z
4. Nas
Old dudes like Jay Z and Nas are still billed as major draws because they can fuckin' perform. More than ever, Jay can fill out a 90 minute set without a dull moment or second thought. "NY State of Mind" is a singalong, deeper cuts like "Lucifer" or "Where I'm From" still positively ignite the faithful. For his part, Nas' 60 minutes were packed too, including a too-short tribute to his fallen Queensbridge cohort Prodigy(2). I've seen Jay Z like five times now but was still impressed(3). It was my first time seeing Nas – not someone I generally laud with praise – but was still impressed. No one would ever question why you'd spend your money to see them.

5. Tegan and Sara
Joey Bada$$ must have shit his fucking dick to be billed as an undercard for Migos and 21 Savage and Future(4) but the more he laments what hip hop was 20 years ago the less I'm interested in what he has to say now. Tegan and Sara were a super alternative with great vibes and wonderful banter, like saying (aloud) that a plane taking off from LaGuardia would do wonders for their exposure if it fell out of the sky and into the crowd. Super stuff. The Kanye-inspired "Saint Vulva" jacket is outstanding.
6. M.I.A.
M.I.A.'s personality (bad) is constantly at ceaseless and grating odds with her music (good). Her show was no exception. The tunes bumped, she looked and sounded great, the props and backup brought just enough entertainment value to keep you around for a glorified (albeit expensive) dance party. And then her 105 minute set was cut after 60. It's in keeping with her persona, though frankly, it's in keeping with the persona of The Meadows too.

7. 21 Savage
There's a bit of a hike in the standings here for a few reasons: 1) he had an early set on Friday so the energy was high; people who were there really wanted to see him, 2) diminished expectations due to his age/budget, 3) diminished expectations due to his talent. No need to lie about the last one; I'm at odds with the kids on this. But he was good! You could understand him! He had great presence and won't have to branch out far with his musical ambitions to find himself in a greater consciousness.
8. De La Soul
The now thirty year vets put on a show that wasn't at a loss for entertainment, as if their effervescent catalog could ever put that in doubt. "A roller skating jam named 'saturday'" was met with rapturous joy before trading off into "Me, Myself & I." These guys are the de facto legacy statesmen of hip hop performers at this point. Not a bad thing – it's something special to see a group move the crowd with material older than the attendees.

9. Run the Jewels
If you aren't putting asses in the proverbial seats, the energy of any show is gonna suffer. Too bad the main stage area at The Meadows is enormous to the point "a huge crowd" won't fill it(5). Between Killer Mike and El-P the energy was there, the deliveries and sound were good, but the dialog felt canned and the chemistry between the two just didn't translate well. They struggled to bring an ambivalent crowd into the set and the experience suffered.

10. Migos
I'm crushed. I think the Migos are the Next Big Thing yet their set was a snoozer. They had a bit of the aforementioned "Meadows Main Stage Syndrome" like RTJ, but there was a naked lack of experience with nowhere to hide. They were reluctant to commit to commanding the stage yet weren't interested in the athletics that younger, under-budgeted acts tend to bank on. Where was the spectacle? Why didn't they wear the Versace furs? Offset wore a $100k diamond chain, and there was backdrop video of a lion fighting a giraffe. That's it. They otherwise performed adequately. It just wasn't enough.

11. Ghostface Killah
All the ingredients were fresh but the meal was awful. Hour-and-a-half shows so often feel like dragged out 60 minute affairs. This went the opposite direction by leaving the best material on the cutting room floor for more filler. There was a DJ, then a hype guy, then Ghost showed up, then a full band, which, eventually started playing TV theme songs followed by covering Nirvana, then all closed the set with some 36 Chambers songs and we out. In an hour set, there were 10 minutes of Ghostface songs. Tops. One good thing? Two volunteers were invited on stage to cover the mic for ODB and Method Man's verses on "Protect Ya Neck," and they slayed it. Kudos to them.

13. Action Bronson
Action Bronson just does not seem like a guy capable of taking the next step with his music. He is the embodiment of the irresistible cult of personality, but "living your best life" is not a substitute for being able to energize a mass of 10,000 people who may or may not have heard of you. Festivals are undoubtedly a huge chance to seek out disciples – but in this case it was squandered on a pretty staid and lethargic rendition of his hits.

---
(1)As 21 Savage said, "fuck NYC traffic." Some were missed due to tardiness, others due to set conflicts, and the rest (such as RHCP) because I am old and tired.
(2)What the fuck was Havoc doing that he couldn't come on stage for this?
(3)Hova's best years are behind him, but the dude is almost 50 and is assuredly not a legacy act.
(4)ICYMI: Joey Bada$$ does not care for modern hip hop, meaning, since like, Wu Tang.
(5)The lead photo for this article is actually the second biggest stage; the largest has another 60-100% capacity.