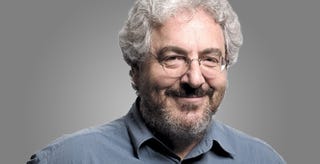 On February 24, 2014, the world lost a comedy icon. Popular society hangs the "icon" label on people without truly knowing what it means. An icon is a symbol. An icon is a singular representation of a larger ideal. An icon is known across the world. Harold Ramis was indeed a comedy icon. Whether you are aware of it or not, Ramis had a hand in many comedic cinema classics. His movies shaped and formed my sense of humor as a child and young man, and I'd be willing to bet it had a hand in shaping yours as well.
Ramis was a triple threat - he could act, he could write, and he could direct. He approached all three with one singular thread: he had a uniquely American sense of what was funny. He was born in Chicago, and being from the middle of America his taste in comedy bled from the inside out. He reached both coasts with equal parts enthusiasm and ease. Some of my fondest memories of movies from my childhood are rooted specifically in Ramis's Americana. While his credits are too numerous to list, I will instead focus on his work which most directly impacted me, and share clips (when available) that I feel are representative of the work.
Animal House (1978 - writer): If you haven't seen Animal House, then you have no business reading this article any further. This film was the first real shock-humor movie accepted into the mainstream. The film was written out of the experiences of Ramis and Doug Kinney, drawing on college memories and their mutual love for comedy - Ramis from SCTV and Kinney from the Harvard Lampoon. I was in a fraternity in college, and this scene always makes me laugh.
Meatballs (1979 - writer): Ramis teamed up with his friend Bill Murray to create a great teen-romp type movie. I will watch this movie each and every time it's on. For whatever reason, there are some people don't appreciate this movie. To them I say this: you're stupid. This is a vastly underrated gem. This could be considered one of the greatest motivational speeches of all time. Enjoy.
Caddyshack (1980 - Writer/Director): Honestly, if you golf then odds are you (or someone you're with) quotes this film usually before your spikes are laced up. This is considered by some to be the gold-standard of comedies. I won't agree, but I won't disagree either. It's definitely top-3. This film worked best when Ramis let his principal actors flesh out and improvise characters on their own. This compilation of quotes should be enough to get you through your next 18 holes.
National Lampoon's Vacation (1983 - Director): Written by a young John Hughes, this is a great American comedy. The film combines the innocence of naivety with absurdity. I think this scene sums up that combination. Personal anecdote: When I was a young boy, my mother (a prominent educator) would fly around the country teaching other teachers how to teach. When she was gone, my father would usually take my brother and me out to the movies. We were very young, and he'd take us to these very funny R-rated films and think nothing of it, because we all shared the same sense of humor. The first one he took my brother and me to was Vacation. I will never forget how hard he laughed and how much fun it was to watch him enjoy the film.
Stripes (1981 - Writer/Actor): Originally penned as a vehicle for Cheech & Chong, this movie demonstrated Ramis's willingness to play second fiddle to a much larger presence. His Russell Ziskey was the calm side to Bill Murray's John Winger. I don't think this film gets enough credit in the Ramis canon, but it certainly deserves it. This scene is subtle in its humor.
Ghostbusters (1984 - Writer/Actor): Come on, it's Ghostbusters. If you haven't seen it, and you can't share any Egon Spengler quotes, then you need to reexamine your place on this planet. The film was the runaway hit of 1984, and with good reason. It's a shame they made a sequel. That's a big Twinkie.
Groundhog Day (Writer/Director): If memory serves, it took the general public a while to grow to appreciate Groundhog Day. I think it's because people didn't fully understand the film. It is the most cerebral of the Ramis films, and I think people were looking for more of a straightforward comedy. The film has stood the test of time though, and continues to be referenced whenever anybody experiences repeating patterns of poor behavior. Ramis really left his brilliant stamp on this film, and thankfully it has become more appreciated over time. I think this compilation is a fairly good representation of the movie.
This is by no means a complete list of the outstanding work done by Harold Ramis. It represents, to me though, his best work. When Ramis passed away, his greatness was celebrated on Facebook, Twitter, TV, and on awards shows. I think that if you really want to celebrate Harold Ramis, take a weekend off and just immerse yourself in the aforementioned films. You'll be glad you did.