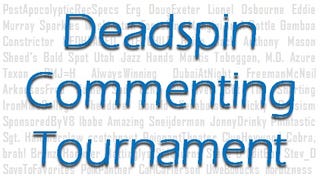 Folks, your tournament committee has been working hard over the past week or so to finalize the rules and set the field, and it looks like we are close to getting this off the ground. If all goes well, we will have three play-in games this week starting Wednesday, which will serve both to introduce you all to some potential bracket-busting newcomers, and to work out any of the kinks.
Below is a general outline of how all of this will work. Since I have an actual life outside of this, the primary goal of this structure will be to make it as easy as possible on me, while still being fun and fair to all. Here's what you need to know:
THE DAY BEFORE A CONTEST:
I will email/DM you and confirm that you can participate during the next day (and to see when during the day is best for you). I will not tell you who your opponent is.
Once both contestants are confirmed, I will tell you each separately when to expect a post on Sidespin (morning vs. afternoon).
I will email you a burner name and password to use for your commenting. Please use this to make your joke in the contest.
THE DAY OF THE CONTEST:
I will create a post here on Sidespin that has this Tournament Logo and a title to the effect of "Round 2, Game 4".
Inside the post, I will lead off with the burner names of the contestants. For example, my opening line may read "Please choose between Burner_A and Burner_B", and then the post itself will follow.
In general, my post on Sidespin will be a duplicate of a Deadspin post that has just been released. Thus, the contestants shouldn't waste a good joke over there on DS if you know you are going to have to comment on a post from that same timeframe here on SS.
You vote by replying to one of the two jokes with a "+1". DO NOT "RECOMMEND" THE COMMENT – THAT DOESN'T COUNT.
EVERYONE HERE SHOULD VOTE ON EVERY CONTEST POSSIBLE. Some of these posts are going to be tough to make good jokes, so we don't want people holding back a +1 just because the best comment didn't rise to some theoretical "+1 level" of greatness. Just vote on which one is best. If one of them is shitty and the other one is really shitty, then give the shitty one a +1.
Most +1s wins. In the unlikely case of a tie, Shitehawk will break it.
THINGS THAT SHOULD BE OBVIOUS:
Do not vote in a live game that you are playing.
Don't tell anyone if you are playing a live game.
Do not try to "get out the vote" with respect to any particular game under any circumstance (regardless of whether you are playing). There are three of us that can "get out the vote" on Twitter or elsewhere: me, Shitehawk and Sharting. Neither of the latter two are playing, and neither will know who is playing any one game. But it is okay to say that you're enjoying it or something general like that on Twitter. We definitely want to encourage people to head over here and vote.
Do not make a comment on a live game post. That's just rude. There should only be two comments on each live game post.
Do not create burners to vote for people. I reserve the right to ignore votes from suspicious burners.
GENERAL OBSERVATIONS ABOUT THE FIELD:
After our three play-in games, we will be down to 32 commenters. These 32 have been seeded, and will play out the game accordingly.
Exception: Just so we don't identify the highest seeds by name, the winners of the three play-in games will not necessarily play seeds 1, 2 and 3. Without giving away too many details, they will be randomly matched against one of the top 12 or so seeds.
Don't stress out over what seed you think you were given. As Shitehawk can attest, there is very little spread among even the top 20 seeds. We just took our best shot.
Thanks to all of you who signed up, there are going to be some great first round games.
SPECIAL RULES APPLICABLE TO ME:
I did not seed myself – Shitehawk did. So I had no control over who I might play over the course of this game.
If you are playing me, I will tell you that you are playing me. That way, you can confirm that I didn't do anything unusual over the course of our match to swing votes in my direction.
Put any questions or thoughts in the comments below. And check back tomorrow (hopefully) for our first game!