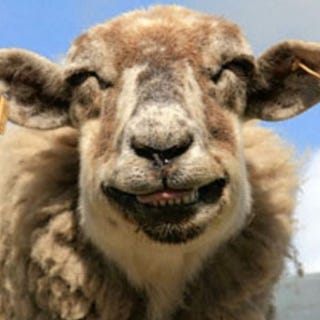 Favorites and duds from today's commenting.
Favorites, in no particular order:
Here's a clever little pull from RMJ=H in the Second-Dumbest Column post. Excellent.
I laughed at this ridiculous sequence from SavetoFavorites in the Second-Dumbest Column post. That's damn funny.
Here's a great line from DougExeter in the Office Shrine post. I needed a moment with this one.
This completely ridiculous joke from IronMikeGallego in the Office Shrine post slayed me. So silly. I love this stuff.
Here's a rather random joke from cobra, brah! in the Ilya Bryzgalov post. Nice work. Wait, don't go anywhere just yet.
This is a terrific one-liner from Raysism in the Chris Berman post. That really is a hell of a joke.
Here's an excellent photo-joke from darinh in the Mound Symbols post. The beauty of this joke is its simplicity, and darinh does a good job of getting the hell out of the way. Good stuff.
Here's a humdinger from FreemanMcNeil in the Mark Sanchez post. Yowza! Just when you think that particular angle is all dried up: BLAM! Nice work.
I chuckled at this sequence from The Amazing Sneijderman in the Mark Sanchez post. That is damn funny. The pace of it alone is so good. Excellent joke. And this kick-ass comment in the Globetrotters post makes terrific use of a joke within the post. Wonderful.
Here's a dynamite line from Poignant Theater in the Andrew Ference post. So good.
This is great, from (yes) FunkFactor5 in the Glendale post. Smart and clever and delivered perfectly.
I love this joke from Same Sad Echo in the Game 6 Goals post. Love it. It had me at Slutville Or Whatever.
And finally, I enjoyed this breezy joke from BronzeHammer in the Gay Coach post. Simple enough, but successful for its truthfulness, if that makes any sense at all. Anyway, good shit.
Total Fucking Duds
I have no idea what MJsThrowbackBitch was thinking with this . . . thing, this awful, awful thing, in the Office Shrine post. This guy is terrible. Right now, today, he's the worst commenter on Deadspin.
And here's a boring, low-hanging-fruit joke from some bonehead called jaxjaggywires in the Scotty Pippin post. Whoa! A Paula Dean joke in a post about racism! Amazing! Jackass.
Oof, cobra, brah! Oof. I really have no idea where this joke was headed. Rock Hudson dolls? Rock Hudson dolls? "Here's a thing that is gay! Gay gay gay!" Yeesh. Still, everyone misses.

Hey, just in time for DUAN. As always, please post any jokes I missed (good or bad) down in the comments below. And have yourselves just a goddamn great fucking night.