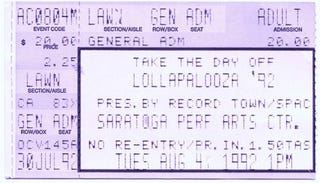 Chris Cornell's passing yesterday brought me back to 1992, when I saw Soundgarden on the 1992 Lollapalooza tour. It took a few moments of reverie to realize that on August 4, 1992, I saw what I can only describe as the greatest concert I've ever seen. Mind you, this differs from the greatest show I've ever seen. That would be Roger Waters performing The Wall in 2012. However, the greatest concert I ever saw was the 1992 Lollapalooza show. The day was outstanding in every way. I was young, I had my friends with me, I met Ice Cube, and this was the lineup of that particular concert:
Red Hot Chili Peppers
Pearl Jam
Soundgarden
Ice Cube
The Jesus and Mary Chain
Ministry
Lush
And those were just the main stage shows! On the side were other, lesser-known bands, but they filled the gaps in between headliners very well. So I ask you to reply below - what was the greatest concert you've ever seen?