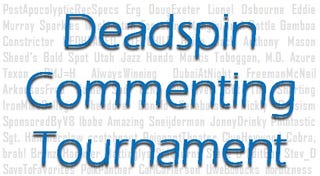 If all goes well today, this will be the first time that I have laughed at Abbott and/or Costello. Pick your favorite below.
Please note one change to the ground rules:
There should only be three comments to this post: the two contestants, and mine.
If you have any questions, jokes or editorial remarks, reply to my comment.
Vote for the best comment, regardless of how good (or bad) you think it is. Please make your vote a simple "+1".
Do not make efforts to "get out the vote" on Twitter or elsewhere.
CHANGED RULE: If you are playing, you can vote for yourself or you can vote for the other guy. Too many people are parsing the voter rolls to see who the participants might be. But I won't count the vote in the final tally in either case.
Do not tell others if or when you are participating in a game.
When in doubt, consult the rules.
If it's not against one of the rules, it's fair game. So feel free to make fun of the tournament, me, the burner names, Nick Denton or whomever or whatever on Twitter or in the replies to my comment.
Have fun!