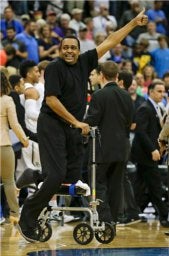 Whoa boy, that really was madness, wasn't it? The first day of the tournament saw five games decided by 1 point, more than the entire 2014 tournament.
Derry Murbles played the upset scoring in the pool like a high school coach that never punts, using a "fuck it I'm all in on the upsets other than 1 and 2 seeds" strategy to catapult himself into first place despite having the second fewest correct picks.
Derry rode #14 Georgia State, #14 UAB, and #11 UCLA to a whopping 37 points of the first day. BirdLaw came in at a distant second with a slightly more conservative strategy to finish with 27 points. [MRN note: I guess employing this format to keep the later rounds more competitive might have bit me in the ass already]
Lucky bastard of the day is Bong Hits 4 Tebow, who in addition to having a handle that is relevant in the media cycle once again saw longshot Final Four pick #8 Cincy advance at the buzzer.
Idiot of the day was Batman's Robyn, who had the fewest correct picks (6) and also the dubious honor of losing TWO Final Four teams on the opening day. Fittingly, BR hails from the "not quite as great today" Republic of Texas, who's schools lost every single game they played yesterday, going a combined 0-5 with no remaining teams in the tournament.
Cobra, brah! remains in last place with zero points. Could somebody check on Toronto for us to make sure it's still there? Unlike Doug Exeter, it'd be a shame if he was lost forever.
Here are the full results. Enjoy the roller coaster everybody.
Champion Picks
| | |
| --- | --- |
| Kentucky | 25 |
| Wisconsin | 5 |
| Villanova | 4 |
| Arizona | 2 |
| Virginia | 1 |
| No Pick | 1 |
Final Four Picks
Midwest
East
Kentucky
34
Villanova
14
Cincy
1
Virginia
9
Maryland
1
Louisville
5
Wichita St
1
Oklahoma
4
Michigan St.
2
Northern Iowa
2
Providence
1
West
South
Arizona
17
Duke
19
Wisconsin
13
Gonzaga
11
Baylor
5
Iowa St.
6
UNC
2
SMU
1