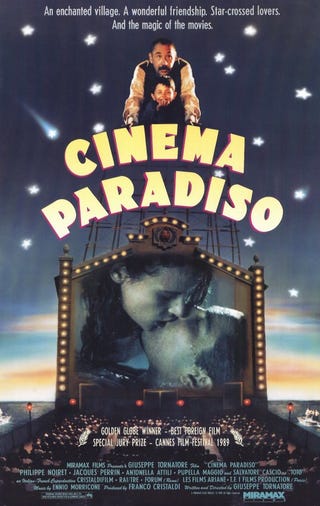 Cast: Marco Leonardi (Salvatore "Toto" - older), Salvatore Cascio (Salvatore "Toto" - younger), Philippe Noiret (Alfredo), Agnese Nano (Elena), Leopoldo Trieste (Father Adelfio)
Director: Giuseppe Tornatore (various Italian films)
Plot: Without giving anything away, the film is about a boy who loves the movies and the projectionist who eventually becomes his father figure. Trust me though, it's about way more than that.
Why you should watch it: This film, released in 1988, won the Best Foreign Film Award in 1989. It is subtitled, so if you don't like foreign films with subtitles, then stop reading. Set in post-World War II Italy, the film centers on a young boy, Salvatore (called "Toto") who is the son of a war widow. He has one thing going for him, and that's his love of movies. He sees just about every film ever shown at his local theater, the Cinema Paradiso. He eventually befriends the theater's projectionist, a man named Alfredo. Alfredo at first sees Toto as a minor pain in the ass, but eventually they grow closer, bonded by their love of film.
During the movie, Toto eventually becomes the cinema's projectionist, when a fire causes Alfredo to lose his eyesight. This isn't too far of a stretch, since Toto is the only one other than Alfredo who knows how to operate the projection machine. Alfredo often dispenses advice by quoting films they've both seen and enjoyed, and it doesn't come off as corny or hackneyed at all.
It's Alfredo who encourages a teenaged Toto to leave their small town Giancaldo, Sicily in order to grow in life and to see everything that he's ever wanted to see from movies. While still in Giancaldo, Toto meets and falls in love with Elena, the daughter of a wealthy banker. As is the case with class differences, the poor Toto is not good enough for Elena in her father's eyes. I won't tell you how their relationship shakes out.
On a personal note, I love this movie because it reminds me of a great time in my life. I was debating transferring to film school after my sophomore year at college. I had been taking many Writing for Film & Television classes, and I always had a desire to get into film making. One class I took was "Italian Cinema." We met as a class once a week, in a huge lecture hall, and we watched one Italian film a week, and wrote a review/synopsis of it to be graded. I saw La Strada, The Bicycle Thief, La Dolce Vita, 8 1/2, and Cinema Paradiso. I saw Paradiso last, and now I know why the professor chose to screen it last. The film is an unabashed love story to cinema. While the trailer doesn't really do much to encourage viewing, I can't recommend this film highly enough.
Go watch it. It's streaming on Netflix. Let me know what you think.