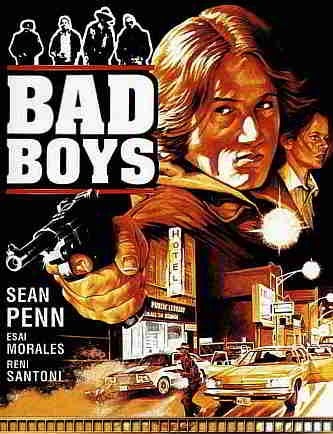 Cast: Sean Penn (Mick O'Brien), Esai Morales (Paco Moreno), Ally Sheedy (JC), Eric Gurry (Horowitz), Alan Ruck (Carl), Clancy Brown (Viking), Reni Santoni (Mr. Herrera)
Director: Rick Rosenthal (Halloween 2, American Dreamer)
Plot: Without giving anything away, the film is about streetwise and street tough youths who are sent to a juvenile detention facility. The place they're sent is basically a maximum security prison for teens. Mick O'Brien is a tough kid who accidentally kills Paco Moreno's brother. They both wind up in this facility and essentially try to kill each other. Who comes out on top? You'll have to watch.
Why you should watch it: First, this movie has nothing to do with those piece of shit movies starring The Fresh Prince and Big Momma. When those "films" came out, the first thing I thought was, "Those bastards stole that title!" However, if you're a fan of cinema, you'll know which Bad Boys came first, and therefore which is the better film. Sean Penn is incredibly magnetic as Mick O'Brien, a tough Chicago kid who uses violence to survive. His girlfriend, played in a reserved manner by Ally Sheedy, is his only real link to humanity and the retention of his soul. However, she suffers because he's a street kid who can't stop doing street kid things. Esai Morales plays the role of Paco Moreno with laser focus, portraying a character who is definitely bad, incredibly sinister, and perhaps evil. The supporting roles are perfectly cast as well. Clancy Brown plays Viking, a teen who is the muscle of the detention facility. This isn't really a stretch for a guy who has played The Kurgan in Highlander and Captain Hadley in The Shawshank Redemption. The actor who steals the film, in my opinion, is Eric Gurry as Horowitz. I'm not going to ruin it by describing who he is or what he does, so you'll just have to see for yourself.
It would be easy to dismiss this film as a relic of the 80s, or worse - a film of the classic teen movie genre, however you would be doing yourself a disservice. This is a taut drama, skillfully acted by talented performers, and a story that is both realistic and gripping. I have always been a fan of this movie, and I can't recommend it highly enough.
Availability: DVD, Blu Ray, Streaming, free on Youtube