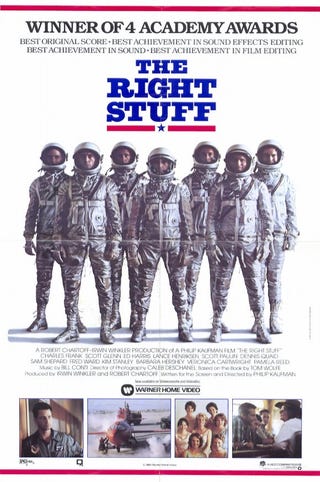 Cast: Sam Shepard (Chuck Yeager), Ed Harris (John Glenn), Dennis Quaid (Gordo Cooper), Scott Glenn (Alan Shepard), Fred Ward (Gus Grissom)
Director: Philip Kaufman (Henry and June, The Unbearable Lightness of Being, Invasion of the Body Snatchers)
Plot: Without giving anything away, the film is about the birth of the space program. It focuses on the program's early beginnings, starting at the end of World War II and the excitement of fighter pilots testing out newer and faster jet planes. From there the film takes the viewer through all phases of the creation of NASA and finishes with the end of the original Mercury program in 1963. This may sound like a direct plot, and it is rather linear, but don't let that fool you. The film engages you and keeps you watching.
Why you should watch it: I have always had a fascination with NASA and space programs. When I was younger I wanted nothing more than to work in some capacity in order to help the space program. Unfortunately, I am horrible at both science and math, so that kind of ruled me out. Thankfully, this film satisfies at least some small part of that childhood dream.
Set over a sprawling three-plus hours, the film never bogs down and never drags on. It starts where every good story should - at the beginning. We follow the main characters and watch their growth from skeptics to believers. The audience sees the entire scope of the space program, warts and all. There were failures, political wranglings, Cold War paranoia, and the human weaknesses of the "heroes." However, the greatness of both the men and the program is displayed for all to see as well. We witness the doubts of the pilots, their nervousness, their bravado, and their triumphs as well.
The soundtrack is as sprawling as the film, mixing crescendo-laden instrumentals with the early rock tunes of the 50's. The size and scope of the film is omnipresent, but never overwhelming. The cinematography, by Caleb Deschanel, is gorgeous and as big as the sky. While the movie has a rather large and varied cast, nobody ever gets lost, and the viewer never gets confused.
The original 1983 trailer is over three minutes long, but it gives an idea of what to expect.
Academy Award Nominations: Eight - Best Supporting Actor (Sam Shepard), Best Art Direction/Set Direction, Best Cinematography, Best Picture; Wins - Best Sound Effects Editing, Best Film Editing, Best Original Score, Best Sound