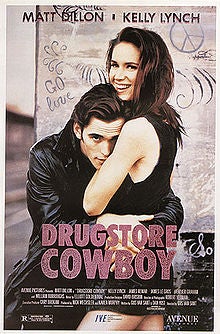 Cast: Matt Dillon (Bob), Kelly Lynch (Dianne), James LeGros (Rick), Heather Graham (Nadine), James Remar (Gentry), William S. Burroughs (Father Tom)
Director: Gus Van Sant (Elephant, Good Will Hunting, To Die For, Even Cowgirls Get The Blues, My Own Private Idaho)
Plot: Without giving anything away, the film is about a group of drug addicts in the early 1970s. The setting is the dreary Pacific Northwest, and the main characters rob pharmacies in order to feed their habits. The film follows them as they try to stay high, and details the intricate nuances of their daily existences. They are known to the police, who do whatever it takes to end their criminal ways.
Why you should watch it: I originally wanted to review a Christmas movie, but a discussion between myself, @RJWinfield and @MauryCompson last evening changed that idea. The film Requiem for a Dream was the topic of conversation, and I said that film was just a poor ripoff of Drugstore Cowboy. I believe that this movie, though receiving many accolades upon its release, has been kind of forgotten.
The plot is fairly straightforward. The main characters follow a pattern of superstitions and opportunities. They rob when they need to, in order to keep high, but if things aren't kosher - if there are bad omens - then they must move on to a new town, a new pharmacy, and a new pattern. This demonstrates a curious ethos in their subculture. They would sacrifice their physical needs in order not to disrupt a cosmic arrangement of good fortunes.
Gus Van Sant, who has been accused of drinking his own Kool-Aid (and I agree) directs with a deft hand. While some of his films are mired in self importance, this is one of his incredible successes. He uses the atmosphere to dictate the terms of the film, not the other way around. Van Sant allows the era, the setting, and most importantly the personalities of the characters (as well as the actors) to dictate the timing and mood of the film. I would say he allows the dreary Pacific Northwest and the drugs to be just as much as characters in the film as Bob and Dianne and the rest.
While Matt Dillon has never been better before or since, except for his turn as a bully in My Bodyguard, a cult film of some note (kidding, kidding), and Kelly Lynch is perfect as Bob's opportunistic wife, the real star turns in my opinion are found in the roles played by James Remar and author William S. Burroughs. Remar's Detective Gentry is a single-minded entity, but finds some humanity in the weakness of Bob (eventually). Remar has long been known as a good niche actor, and this film proves no different. The casting of Burroughs as Tom the Priest is life imitating art. If you don't know the history of William S. Burroughs, you should look him up.
Drugstore Cowboy achieves the drug movie feel without becoming a movie about drugs. It's more atmosphere, mood, tone and character development than anything else. While it's probably the most celebrated and accolade-given film I've reviewed, I think it can always be appreciated if it's viewed again. Give it a look on this dreary weekend.